Sanral admits toll plaza double-billing glitch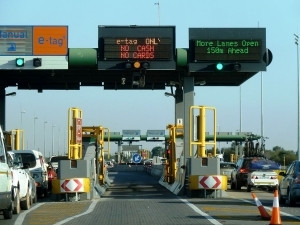 The South African National Roads Agency (Sanral) has confirmed that some motorists are being double-charged at e-tag lanes at conventional toll plazas.
Following Sanral's claims of a successful launch of e-tag lanes at a number of its conventional boom-down plazas, the Organisation Undoing Tax Abuse (OUTA) this week said it has received many e-mails from e-tagged motorists complaining about double charges at these toll-plazas.
Responding to ITWeb questions over the issue, Vusi Mona, Sanral's general manager for communications, said the road agency had also received complaints about the double-billing glitch.
"Yes, Sanral has received complaints," Mona said. "This is mostly due to road users making use of the lanes that accept both cash and e-tags as a method of paying toll, and not realising that their tags now work at conventional toll plazas and then also pay for the transaction. This is also reducing as the public are getting used to the new payment option."
According to Mona, the main advantage of automated lanes is the convenience of travelling without having to stop and pay. This lightens congestion on these routes, especially during peak times such as Easter and the festive season, he pointed out.
"Sanral is resolving these complaints on a case by case basis," he said.
On 4 December last year, the roads agency announced it was accepting the e-tags used in Gauteng's electronic tolling system at many of its toll plazas countrywide. It said the tags could now be used on a wide range of toll roads, provided users have loaded sufficient funds. The rationale was to make it faster for drivers to get through toll plazas.
OUTA says motorists are complaining they had paid at the cash booth and were also charged on their e-toll accounts. It appears the e-tag readers have registered their vehicle, despite them not using the e-tagged lanes at these plazas.
Some complained that this situation had also led to their e-toll account being completely drained and their accounts were subsequently moved into Sanral's Violations Processing Centre.
These complaints were also raised by car rental customers, who also paid cash at these toll plazas, only to find the car rental company had also charged them, as the company's e-tagged vehicle had registered an electronic charge as well.
The members of the public also informed OUTA that when they raised this issue with Sanral and the car rental companies, they were asked to provide proof of the cash payment in the form of an invoice or receipt from the toll plaza.
They explained that the common habit is not to collect cash receipts when paying cash at these conventional plazas, making it impossible to provide this proof. "The number of complaints we have received makes this 'double billing' problem far too serious for Sanral to ignore," says Wayne Duvenage, chairperson of OUTA.
In addition, some motorists have also complained that certain conventional toll plazas had a lot of congestion at the "pay-booth" lanes, which appeared to them as being a deliberate attempt by toll companies to cause congestion in these cash pay-lanes, so as to "encourage" road users to get tagged and make use of the less congested electronic lanes.
"In effect, the economic benefits of the faster tolled routes are being lost due to the queues developing at these toll-plazas," says Duvenage.
List of toll plazas accepting e-tags
The new toll routes that will accept e-tags are:
N1 North toll route - Capricorn, Kranskop, Nyl, Sebetiela and Baobab
N17 toll route - Gosforth, Dalpark, Denne, Leandra, Ermelo and Trichardt
N1 South/R30 toll route - Grasmere, Vaal, Verkeerdevlei and Brandfort
N2 South Coast toll route - Oribi, Umtentweni and Izotsha
N3 Mariannhill toll plaza
All toll plazas on the N3 toll concession route
All toll plazas on the N1/N4 Bakwena toll route