HP unveils 'smallest all-in-one' printer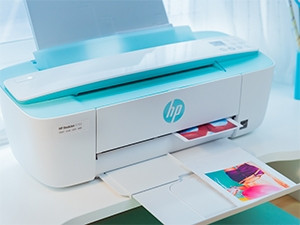 Hewlett-Packard today released what it terms the "world's smallest all-in-one" printer.
The HP DeskJet 3720 can print, scan, and copy documents wirelessly from a wide range of mobile devices and social networks, and is "half the size of most all-in-ones," according to Jane Geypen, consumer printing marketing manager at HP.
Users can operate the printer from their mobile devices using an accompanying free mobile app, available on Apple, Android, and Windows smartphones and tablets.
HP's Social Media Snapshots app helps users print images directly from Facebook, Facebook Messenger, Instagram, or their device's camera roll.
"Consumers crave tiny, wireless devices that fit into their lifestyle and enable them to stay connected, social and productive wherever they may be," says Sue Richards, GM and VP at HP Consumer Printing.
Certain groups of people - such as university students, recent graduates, and families with children - tend to want a printer that can fit into small spaces, such as dorm rooms or small studies, adds Geypen.
The DeskJet 3720 will reach SA in September. Local pricing is yet to be confirmed, but is likely to be around R1 200, based on conversions from the printer's estimated retail price in euros at the time of writing.