Building scalable architectures with Veeam and Cisco UCS C3000 storage servers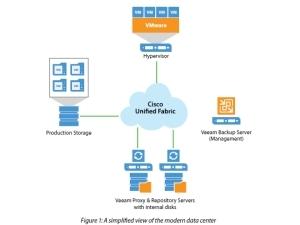 Veeam Backup & Replication provides an architecture where different components can be scaled out simply by adding additional components. To maximise backup and restore performance for the entire system, the Veeam Proxy and Repository roles need to be balanced. Doing so allows Veeam to provide availability for the data, ensuring the lowest recovery time and point objectives (RTPO). A performance-optimised architecture is key to reach that goal. This white paper will rely on the following simplified model of a modern data centre.
The virtualisation servers and storage systems are connected to the Cisco Unified Fabric, which is based on high bandwidth, low latency 10Gb Ethernet. Cisco Unified Fabric is built for modern data centres and supports the Fibre Channel over Ethernet (FCOE) protocol. The physical Veeam proxy servers are also directly connected to the Cisco Unified Fabric with the transport mode configured for direct SAN access.
Transport modes
Veeam Backup & Replication supports three transport modes:
* Direct SAN access (with or without storage snapshots)
* Virtual Appliance ("hot-add" - for VMware only)
* Network (NBD/Hyper-V OnHost Proxy)
Direct SAN access is the fastest mode and recommended for large environments because of performance and efficiency. It adds the least load to the virtual environment/hypervisor and can leverage storage snapshots on supported storage systems. Direct SAN restore is supported in Veeam Backup & Replication v8.