Enterprises up digital transformation spend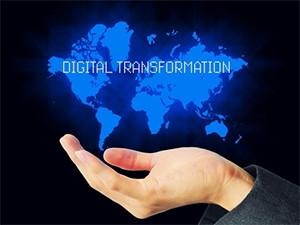 This year, global enterprises will up their spending on digital transformation initiatives.
So said Thomas Meyer, group VP for EMEA at market research firm IDC, during the Aruba Networks EMEA Atmosphere 2017 event in Paris.
Citing a recent IDC report, Meyer said globally, enterprise organisations will spend about $2.1 trillion on technology and related services to implement and manage digital transformation initiatives.
He pointed out that enterprises are at an inflection point, and over the next three to four years, digital transformation efforts will no longer be "projects", "initiatives, or '"special business units" for most organisations.
"They will become the core of what industry leaders do and how they operate. In effect, every enterprise - no matter its age or industry - will become a 'digital native' in the way its executives and employees think and how they operate."
IDC has been chronicling the emergence and evolution of the '3rd Platform', built on cloud, mobile, big data/analytics and social technologies, for nearly a decade.
The market analyst firm points out that over the past several years, the adoption of these technologies has accelerated as enterprises commit to the 3rd Platform and undergo digital transformation on a massive scale.
Meyer explained the technology categories that will see the greatest amount of digital transformation spending in 2017 are connectivity services, IT services, and application development and deployment (AD&D).
Combined, IDC notes, these categories will account for nearly half of all digital transformation spending this year.
However, Meyer said, investments in these categories will vary considerably from industry to industry.
"The discrete and process manufacturing industries, for example, will invest roughly 20% of their digital transformation budgets in AD&D and another 12% to 13% in IT services while the transportation industry will devote nearly half of its spending to connectivity services."
According to Meyer, the fastest growing technology categories associated with digital transformation over the five-year forecast are cloud infrastructure (29.4%), business services (22%) and applications (21.8%).
He added that by the end of 2017, over 70% of the Global 500 will have dedicated digital transformation/innovation teams.
To meet the challenges of the digital transformation economy, Meyer urged enterprises to grow their developer teams more quickly.
He noted that at the same time, the pace of software-based innovation will accelerate - enterprises that embrace DevOps and enabling technologies will increase the number of annual application code releases by 50%. "The result will be a dramatic increase in enterprises' ability to monetise the value of software through 'things' and services."