CWU denies intimidation at Telkom strike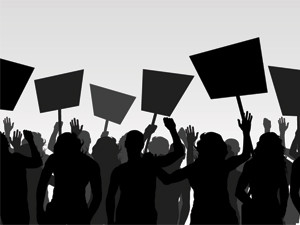 The Communication Workers Union (CWU) has denied Telkom's claims that its members intimidated and threatened non-striking workers outside its campus in Centurion on Monday.
"There was no violence or intimidation. Telkom actually undermined the workers that responded to the call to strike in these numbers, that's what happened, and then they wanted to run to court to interdict the strike," CWU general secretary Aubrey Tshabalala told ITWeb in a telephonic interview.
However, Telkom's group executive for communication, Jacqui O'Sullivan, told ITWeb that CWU members "physically shoved our people and threatened them with violence" and that she "was personally a recipient of this attempt at intimidation".
"Less than 100 CWU members chose to harass and intimidate employees in Centurion. There were also some reports of blockades and intimidation at a few Telkom facilities elsewhere in the country," the company said in a statement on Monday.
Telkom says the CWU blocked access to the Centurion campus, and some Telkom yards, and employees were physically restrained from entering the Telkom campus by protesting workers and threatened with physical injury. It said it would not tolerate the CWU's "thuggish behaviour".
In response, Telkom obtained an urgent interim court order interdicting and restraining the CWU and its members from intimidating and threatening Telkom non-striking staff.
"CWU has engaged in many strikes before; our members have never been involved in any violence. Our members are disciplined," according to Tshabalala.
However, during the CWU's strike at MTN in 2015 there were a number of reports of violence and intimidation by members, which the union also denied at the time.
O'Sullivan says Telkom security had to assist to enforce the interdict in some areas yesterday "but the picketing zones are now established and are being supported by security and where necessary, the SAPS".
"This morning, a brick was thrown through the window of an employee's parked car at our Randburg depot. Fortunately, the employee was not in the car," she told ITWeb.
Taking it further
Tshabalala says Telkom's interdict really achieved nothing and "cited issues of violence which they could not substantiate".
"There is really no restraint there because the court just re-emphasised the rule of law which states you should not intimidate or sabotage the business ? we agree with those principles; that is what is in the law. There is nothing that came out of the interdict that is out of the ordinary," he says.
This after the court restrained the CWU from interfering with Telkom's business operations and from blocking Telkom entrances at all premises, in all provinces. The interdict also ordered CWU members who are participating in the strike to do so 50m away from Telkom premises and prohibited any intimidation or threatening of non-striking staff.
Tshabalala says a positive came out of the court ruling ? that Telkom and the CWU need to properly define picketing rules at the company by engaging via the Commission for Conciliation, Mediation and Arbitration.
He says Telkom's choice to go to the courts is "a sign of pure panic at the company".
"The fact is skilled workers are now on strike and Telkom does not have capacity to respond to this. They are now assigning contractors all over to try to cover the ground that the striking workers are not covering," he says.
The CWU began protests at Telkom on Monday, 1 August, with a go-slow and ramped up into a full-blown strike on 11 August. Tshabalala told ITWeb at the time that around 90% of its 4 000 members at Telkom would be on strike, but the company's official figures show that on 11 August, only 902 CWU members downed tools. The number then dropped to around 453 on 12 August.
O'Sullivan says on 16 August there were 846 workers striking nationally, which is less than 7% of the Telkom workforce.
No deal
The crux of the strike comes back to the CWU's displeasure with a collaborative partnership agreement that Telkom signed with trade unions Solidarity and the South African Communications Union in June.
At the time, Telkom said the CWU had agreed "in principle" to the deal, but to date the union has still not signed it. This is mostly due to a stipulation in the deal that Telkom would not give any annual increase for staff this year, but committed to a 6% salary increase for all employees from 1 April 2017.
"Much of what the CWU is demanding has already been agreed to in that deal, which is why the CWU leadership has repeatedly told Telkom leadership that they would be willing to sign the agreement," says O'Sullivan.
However, the union says it cannot accept 0% salary increases for workers when CEO Sipho Maseko's salary has gone up R2.2 million to R14.5 million in the past financial year.
The union also does not support Telkom's recent changes to staff incentives remuneration, which includes a new incentive plan, called Performance Pays, whereby employees are paid more if they reach specific performance targets each month.
The CWU is demanding an 11% annual salary increase, a three-year moratorium on retrenchments at Telkom, a better gain sharing scheme for workers, six months' maternity leave, as well as a more transformed executive.
Tshabalalasays the union is calling for engagement and negotiations and "the ball is in Telkom's court".
Meanwhile, it has plans to intensify its strike as well as reach out to authorities ? including officials at Luthuli House and the Department of Telecommunications and Postal Services ? to intervene.