Alcatel launches unfussy feature phone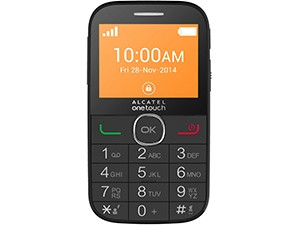 The simple and low-cost Alcatel OneTouch 2004C is now available in South Africa from Vodacom.
The device is easy-to-use and aimed at senior citizens but suitable for anyone who wants a phone purely for messaging and voice calls.
It has a 2.4 inch display and a big nine-number keyboard. The company says this makes it particularly well suited to the needs of senior citizens who don't want to learn a smartphone interface or don't need access to the mobile Internet.
It includes basic features such as a two-megapixel camera, a music player, and wireless FM radio. It also features an SOS button at the back of the device. By pressing the SOS button, the phone will attempt to connect with five emergency contacts in succession until someone picks up.
"We're delighted to launch this new feature phone as part of our commitment to offering attractive, feature-rich and affordable products to different segments of the market," says Ernst Wittmann, SA country manager.
The device is available for under R600.