Eskom's Sal Laher scoops Visionary CIO Award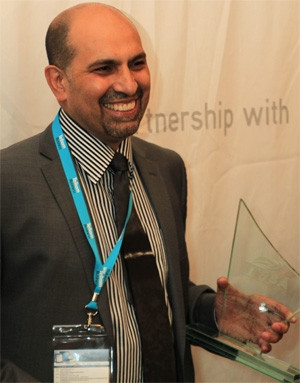 Sal Laher, CIO of Eskom, was named the 2013 Visionary CIO of the Year winner.
The winners were announced during the Institute of IT Professionals SA (IITPSA) President's Awards ceremony at Montecasino.
For the Visionary CIO of the Year Award, Laher shrugged off competition from Antony Hlungwane, head of group IT at Hollard Insurance; Fred Swanepoel, Nedbank Group CIO; Alec Joannou, CIO of Sasol; and Quinton Caryer, CIO of FNB Wealth.
Laher has been the driving force behind a 14-month turnaround in the public utility's IT division - taking it from total breakdown to Eskom's top-performing division. His vision for Eskom IT has been clear - it had to become a strategic partner and technology enabler for the organisation.
In their citation, the judges noted beyond Eskom, "Laher understands the role a well-run state-owned enterprise can play in the country's transformation. He wants to grow local skills, drive e-government and use technology solutions to fight fraud and corruption.
"I am extremely humbled and very much appreciate this award," said Laher on accepting the accolade. "This is a great award if I look at all the other candidates."
He also expressed gratitude to the management team at Eskom, saying the company was set to grow from strength to strength.
The Visionary CIO Award, now in its sixth year, recognises an executive who heads up ICT strategy in an organisation and has demonstrated visionary leadership in using technology to support and grow business. Past winners of the award include Rabelani Dagada, head of ICT at Royal Bafokeng Administration; Carl Louw, head of the Internet Channel at Absa Bank; Patrick Monyeki, CIO of De Beers; Sandi Macfie, CIO of Tsogo Sun; and in 2012 Sello Mmakau, CIO of Home Affairs.
To read the judge's citations, click here.