IT Leaders Africa Summit returns for seventh year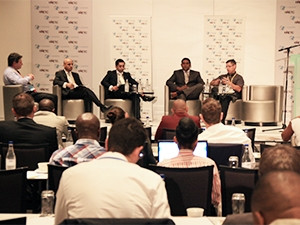 This year's IT Leaders Africa Summit will focus on digital disruption and its impact on organisations.
This is according to event organisers, who say the agenda will explore the evolution of technology, effective management of data centres, cost reduction through the adoption of innovative technology, and how to ensure a sustainable network.
The IT landscape is swiftly evolving and continually facing disruptions, which make it incredibly difficult for CIOs, CTOs, directors and managers in the IT space to keep up, organisers say.
Now in its seventh year, the IT Leaders Africa Summit brings together African IT and business players across industries such as FMCG, mining, manufacturing, finance and retail.
The summit organisers say this year's event will feature 40 speakers, with keynote speeches, panel discussions and educational workshop sessions hosted by industry players that are shaping the IT landscape in SA and beyond.
The summit has also appointed a new advisory panel that will guide and tailor the conversation.
Advisory panel member and group CIO for Sasol, Alec Joannou, says the summit will address pressing IT-related issues like: "What are the game changers for IM - mobility? Value analytics, security of information or all of the above?"
The speaker line-up includes Tunde Coker, MD of Rack Centre, who will look at cost reduction strategies and why it is vital for CIOs to stick to budgets, and Cuan Kloppers, CIO at Samancor Chrome, AFSUG board of directors, who will examine the challenge of IT execution and how to keep up with the implementation of IT projects.
Peter du Plooy, CIO at Engen Oil, will discuss the driving of growth and expansion in the IT function, and Antonio Raposo, CIO at Volkswagen, will explore the trends and game-changers for mobility in Southern Africa.
The summit takes place on 15 and 16 March at Vodacom World in Johannesburg.