DOC minister talks digital migration with broadcasters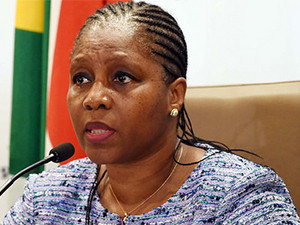 Department of Communications (DOC) minister Ayanda Dlodlo has met with South African broadcasters to discuss the next step in the digital migration process.
Dlodlo yesterday met with the SABC, Etv, StarSat and other stakeholders participating in the digital terrestrial television programme.
This followed the Constitutional Court (ConCourt) ruling last month, which found in favour of former communications minister Faith Muthambi, in a judgement that favoured non-encryption for government-subsidised set-top boxes (STBs).
The Government Communication and Information System (GCIS) now says the June ruling has paved the way for the new minister to make a decision regarding the encryption or non-encryption of STBs, which are required to convert digital broadcasting signals on analogue TV sets.
"The meeting is a step closer to ensuring the Broadcasting Digital Migration process is implemented without delay.
"The aim is to ensure all affected stakeholders jointly come up with a plan that will assist government to meet its obligation to ensure South Africans are migrated from analogue to digital television platforms by December 2018," the GCIS says.
The ConCourt upheld the appeal by Muthambi against the judgement of the Supreme Court of Appeal, which ruled the process by which the minister amended the BDM policy in March 2015 was invalid and therefore unlawful.
GCIS says the ConCourt ruling means the subsidised STBs that government has earmarked for five million poor households can now go ahead. Production of the first batch of 1.5 million decoders was halted last year because of legal challenges to the policy.
The GCIS says over 500 000 decoders had been produced and are kept in South African Post Office warehouses waiting for distribution.
However, a number of STBs have been distributed to residents in the SKA area of the Northern Cape and some border-lying areas.
SA has been planning for digital migration since 2008 but missed the June 2015 International Telecommunication Union deadline to switch from analogue to digital television.
This week, ANC chief whip Jackson Mthembu spoke out about the delayed process at a briefing at the ANC national policy conference in Johannesburg.
Mthembu was speaking as commission chairman for communications at the conference, saying digital migration is something that should have happened already.
"We have lost an opportunity from 2015; we should have migrated. We are now in 2017 and still losing the benefits of the digital environment. We are saying to government, if you have to migrate to digital today then do so," EWN quoted him saying.