We owe it to our youth
Almost 30 years on, Lorraine Steyn is having fun running her software development business, and believes there's a lot of coding talent in our youth that should be given the chance to fly.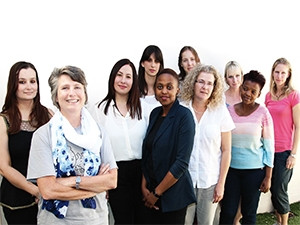 When Lorraine Steyn started programming, it was Cobol and mainframes, 'back in the early days'. "I was one of the few people who did computer science at school. We didn't even see a computer - I think we had one visit to see the mainframe, punched cards and that sort of stuff."
She had worked in the industry for a few years when PCs came out in 1984, and things got exciting. Three years later, at the age of 24, she and a partner started Khanyisa Real Systems (KRS).
What was it like to be in IT in those early days, especially as a woman and a business founder?
"I had a lot of women working for me, more than the industry average. In fact, there was much closer parity in the '80s - around 45 percent women and 55 percent men. Women were very well represented, but things have worsened since then," she says. "We had a lot of moms who worked from home, telecommuting. It was a very flexible environment and we got the best out of women who would otherwise be dropping out of their careers."
While there are many possible explanations as to why IT became a male-dominated industry, for Steyn, three stand out: one, the gaming culture came up and seemed to squeeze out girls; two, the pace of change increased and it became much more difficult for women who took a break to start a family to get back and make it a sustainable career; and three, the pace and expectations of business accelerated. "Even when we were bringing women into the field, the business world got harder for them to fit in.
Companies want someone who will give their soul, work late hours. They're not interested if you have a family. Generally, getting women into the STEM fields has been difficult, so all of these things conspired against our intake. We need to address the problems to make IT an attractive career for women again."
A friendship culture
So what's KRS all about? "We have a long service history and very low staff turnover," says Steyn proudly. The company's longstanding clients include SANParks, many insurance companies and brokerages, restaurants, retail and gym clients, among many more.
Despite software development becoming a globally competitive competence - you compete with companies in India and Eastern Europe as much as local ones - finding new business and retaining customers has not been a problem for Steyn. There is a lot of software development work out there, and it's the skills shortage that drives the South African market, she notes. She has not been tempted to sell the business. "They say in life everything is for sale, but we are not looking. We are having a lot of fun and the company has been pro_ table. As a company, our maturing has been enormous these last five years. It seems like we are in an exciting place, so I think we want to ride it a bit, not turn it over to somebody else."
We very seldom compete for clients, but we compete for staff.
Her unequivocal focus on delivering quality in a way limits KRS' growth, she says. "We have become the craftsman rather than the mass producer. It's a niche and we're happy with it."
As a firm of software craftsmen, KRS doesn't see much competition, interestingly. "We very seldom compete for clients, but we compete for staff. Finding and retaining the best people is everything in this industry."
KRS has 50 staff members now and about 40 of them work from a house in Rondebosch. "It's a big, rambling place with a swimming pool. For the last 20 years, we've catered lunch for our staff every day. So come lunch time, we all sit down to a nice meal. For some of our young guys, this is the only decent meal they have. If it wasn't for us, they'd be living on KFC," she laughs.
"We have this friendship culture...one of the offices is carpeted in putt-putt green because our people like playing putt-putt."
Steyn, who happens to be a Mensa Cape member, glider pilot, karate and Aikido student and a keen hiker, among other accomplishments, quotes Richard Branson, who said: "Care about your staff and they'll care about the clients."
"That's completely in line with how we see things," she says.
Of course, a friendly culture alone won't cut it if you don't offer your developers the chance to work with cutting-edge technology.
"There have been so many times when we've had to make big shifts because change is not something that happens gradually. The last shift was to web and mobile technologies."
Every company that's ever told a youngster, 'You don't have experience, I can't hire you', should go back and look at itself and its moral stance.
KRS also runs a self-funded internship for 12 developers each year. "It's a big number for our size of company," says
Steyn. "We start with classroom training for two months. They're not treated as students, they're treated as people on projects, using Agile processes, but in a training environment."
About half of the trainees are taken into KRS' projects, and the rest are placed with clients, like Alan Grey or Paarl Media, "who love the fact that we've trained up these people to a point where they can step into projects and be useful," says Steyn.
This is the company's fresh blood, she adds. "It's these people who are keeping us young, keeping this can-do attitude in the company.
"Our youth believe that when they get the degree, it's going to open doors for them. It's not, because there is a gap between the educational world and what business wants, and it's up to the business world to bridge it.
We owe it to our youth.
"And every company that's ever told a youngster, 'You don't have experience, I can't hire you', should go back and look at itself and its moral stance."
She believes many small to medium software development companies are doing their best to grow skills, but not enough is done by corporates. "I don't see enough investment in our youth. Most corporate internships involve taking someone in, putting them in a corner and hoping that they'll pick up something by osmosis."
This is not good enough, Steyn says. "They're going through the trouble and the expense of doing those degrees. Let's make sure every one of them finds a job."
Coding is important
Should coding be taught at school, or should South Africa fi rst sort out other priorities, like electricity, water and nutrition, or even maths and science teaching?
As programmers like to say, there are two kinds of people: you either make the code or you use the code. "It's exceedingly important that we have more people able to make code," says Lorraine Steyn, founder of KRS. "Having the ability to code is like being artistic - not everyone is going to be able to do it. But we must give the opportunity to those who do have the ability.
"It's like saying, because we are hungry, let's not have art. It's short-sighted. We have to create opportunities for people who discover they have the talent for coding, because they are going to fly. It's going to catapult them out of their circumstances. The people I have seen, who have come from poor villages, always pay back - they bring the money back to their families. Whatever we do, we can't only worry about feeding, and we have to teach people to fish, too.
"Coding is important. We must keep on doing what we can to make it popular and accessible and we must keep on focusing on women - for women to be missing out on this incredibly important career opportunity simply because they are a bit put off, it's doing themselves and the industry no good. We are missing out on these potentially great people and they are missing out on a potentially great career."
This article was first published in the April 2016 edition of ITWeb Brainstorm magazine. To read more, go to the Brainstorm website.