Copy Express launches franchise drive with Cape Office Machines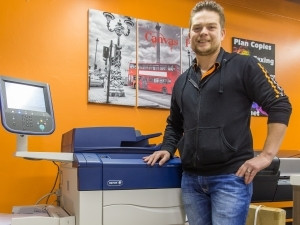 One of the Cape's fastest-growing full service print and copy shops, Copy Express, is launching an ambitious franchise expansion drive with upmarket Xerox equipment from Cape Office Machines and Bytes Document Solutions.
The shopping centre-based store, headquartered in Bellville, recently purchased and installed a Xerox Colour C70 printer to support a growing number of corporate clients with higher quality, higher volume, colour matched products. Two new Copy Express stores - expected to open in Somerset West and Stellenbosch in the next few months - will also be equipped with a Xerox printer, as will a further four stores across the Western Cape and Gauteng in the next year.
Fact sheet
Solution:
Xerox Colour C70
Industry:
Printing and copying
Provider:
Bytes Technology Group
With an array of copy and printing equipment already in place, along with in-store internet and business desk facilities, Copy Express needed the last piece of the puzzle to complete the picture, and found it in the Xerox Colour C70.
Copy Express founder and owner Wayne Theunissen says the Copy Express concept is changing the way retail copy shops are used and perceived.
"Since we opened the first store in Tyger Valley Centre 18 months ago we had a vision to go beyond the stock standard concept of a copy store and create an all-in-one print, business and signage concept store for walk-in, corporate and online customers," says Theunissen.
"Supplying to the public is one thing and we had the machinery to do that," he says. "Corporate printing is a whole new level, where attention to detail, especially in colour matching, is imperative. There is a big difference between normal copy products and professional printing, and if a major brand walks into the store we need to provide them with a much higher level of service."
"In the C70 we finally had a machine that could match the red spot colour of a famous soft drink brand and produce litho-quality prints overnight," says Theunissen. "It also prints on much higher grammage media - up to 300gsm - and on oversize A3 which means we can print full-bleed A3 products like folders without borders and deliver them to clients at a fraction of the time and cost of traditional litho jobs."
The Xerox Colour C70 is a Light production Colour printer offering print, copy, and scan functionality, including scan to PC, USB or email, and mobile printing. It gives Copy Express the option to further expand its already extensive product line - which includes everything from standard stationery, colour printing, business cards, flyers, photocopying, high-resolution scanning and banners - with new options such as signs, ID cards, window clings, labels and polyester synthetics.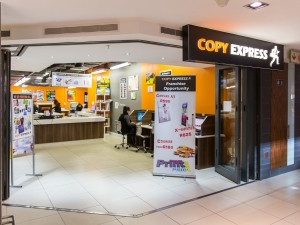 "The gap between conventional digital printing and high-end, calibrated digital press quality can sometimes seem insurmountable for smaller print shops like Copy Express, but it needn't be," says Cape Office Machines director Stuart Daniels. "The Xerox Colour C70 proves that a much smaller investment can yield the same or better results than machines costing hundreds of thousands more. Combined with existing equipment and limited only by the users' experience, the C70 delivers litho-like quality in an environment where it just wasn't possible even a few years ago. It's changing what's possible in print, one shop at a time."
Theunissen says the support he received from Cape Office Machines and Bytes Document Solutions went a long way to convincing him the return would be much greater than the initial investment.
"It's one thing selling a printer, but selling a vision based on an understanding of how we do business and where we want to go is another, and that's what we got from Stuart and his team," he says.
"This one machine is changing the way we do business, and will change the way we do business in future," says Theunissen. "Every new store we open will now be a Xerox store from day one. It's the only way we can deliver on our promises to both owners and customers."