Renewable energy is saving SA billions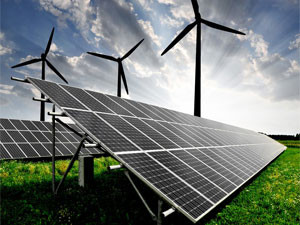 Renewable energy generated by South Africa's first wind and solar projects helped ward off some load-shedding and saved around R4 billion for the country during the first six months of 2015.
This is according to a recent study by the Council for Scientific and Industrial Research (CSIR).
"Without the solar and wind projects, we would have spent significant additional amounts on diesel, and energy would have had to be 'unserved' during more than 200 additional hours from January to June 2015," according to Dr Tobias Bischof-Niemz, who heads up the CSIR's Energy Centre.
The CSIR says 2.0 terawatt-hours (TWh) of wind and solar (photovoltaic or PV) energy helped save R3.6 billion on diesel and coal fuel over the period. Around R4.6 billion was also saved by the economy because of 203 hours of so-called 'unserved energy' that were avoided thanks to the contribution of the wind and solar projects.
"During these hours, the supply situation was so tight that some customers' energy supply would have had to be curtailed ('unserved') if it had not been for the renewables," says the report.
"The avoidance of unserved energy cumulated into the effect that during 15 days from January to June 2015, load-shedding was avoided entirely, delayed, or a higher stage of load-shedding prevented thanks to the contribution of the wind and PV projects."
The direct cash savings on fuel spending to Eskom and the benefits of having avoided 'unserved energy' are countered by the R4.3 billion worth of tariff payments to independent power producers (IPPs) of wind and solar projects.
"Therefore, renewables contributed a total net benefit of R4 billion (or R2 per kWh of renewable energy) to the economy."
As for wind alone, these projects were cash positive for Eskom to the tune of R300 million and saved R1.5 billion in fuel payments while costing only R1.2 billion in tariff payments to IPPs.
The latest CSIR study is an update and continuation of an initial study that was published in January. The research showed the trend of savings from renewable energy that began in 2014 continued and sped up this year.
Bischof-Niemz says the centre has developed a methodology to determine whether at any given hour of the year, renewables have replaced coal or diesel generators, or whether they have even prevented so-called 'unserved energy'.
"What is more, the cost per kWh of renewable energy for new projects is now close to 80c for solar PV and between 60c-70c for wind projects. That will keep the net financial benefits of new renewables positive, even in a future with a less constrained power system," he says.