Telkom data offerings aim to disrupt
Telkom is giving customers what they have been asking for, and could steal market share away from bigger players, by revamping its mobile offerings and prioritising data over all else.
This is according to George Kalebaila, IDC senior manager for telecoms, media and IOT in Africa. "This is going to shake up the market quite a bit and is definitely giving us a look into a voiceless future."
This after Telkom dropped a bomb on the mobile market last night, announcing it was completely overhauling its mobile product offering and launching "FreeMe" data-centric plans.
"We think this will change the mobile telecommunication game in SA," according to Telkom consumer CEO Attila Vitai.
"Data has become the central requirement for most smartphone users, so that is what we have prioritised."
The new plans are based on data bundles and offer no voice minutes, rather opting to zero-rate calls and messages over instant message (IM) services WhatsApp, Viber and BlackBerry BBM.
"There is a global trend in decreasing voice minutes and revenues, with a shift to OTT [over-the-top] service. Telkom Mobile looks to have embraced this, rather than swim against the tide, and to monetise the OTT voice services by keeping the users on their network," according to BMI-TechKnowledge telecoms sector specialist, Tim Parle.
"The products will appeal to the Generation C customers - those driven by the need to be always connected, creating and consuming digital content. These, and other groups of customers, are placing less value on voice calls, preferring to use IMs," according to Parle.
Ovum senior analyst Richard Hurst says the move certainly shows Telkom is being innovative.
"Right now, voice is still an important element of the network operator revenue mix. However, it has been in decline across the world for a number of years and it takes a bold step to cut away from the circuit-switched voice model to a data-only platform," says Hurst.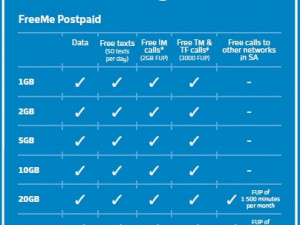 Introducing FreeMe
"Telkom FreeMe offers our customers smartphone plans that liberate them from everything they've ever hated about their network," claims Vitai.
The postpaid and TopUp packages are available as 24-month contracts with a device, or on a SIM-only month-to-month plan.
The smallest FreeMe data package offers 1GB of data for R99 a month and includes free IM, free on-network calls (to Telkom mobile phones and landlines), free texts (50 per day) and free WiFi. However, calls to any other local networks will cost 69c per minute.
The 2GB, 5GB and 10GB packages offer the same details and are priced between R99 and R399. The two most expensive packages - the 20GB and Unlimited data - are priced at R599 and R999 respectively. They include free IM calls and messages, free text messages, free WiFi and free calls to any network - with a fair use policy (FUP) cap of 1 500 minutes for the 20GB package and 3 000 minutes for Unlimited.
Out of bundle rates for data are 29c per MB, 30c per text and 69c per minute on per-second-billing. Free WiFi is available at over 6 000 Telkom hotspots and a 10GB FUP applies.
The deals will become available from 25 July and customers will also be able to order their contracts online with next-day delivery in metropolitan areas and within two to three days in other areas.
"This simplicity and transparency [of the offers] is what consumers have been asking for and it won't be long before the other players respond accordingly," says Kalebaila.
Tough to replicate
However, Ofentse Mopedi, senior analyst at Africa Analysis, does not believe Telkom's move will be a market game-changer, "given that it won't be easy for bigger rival companies to replicate this model".
"Telkom's subscriber base is very small and this affords the operator opportunity to offer additional value-added services to such a moderate subscriber base, such as free on-net calls as well as free WiFi access."
At the end of March, Telkom had a little over 2.7 million active mobile subscribers, with about 1.9 million of those on prepaid packages. Telkom's customer numbers still pale in comparison to its three peers: Vodacom has 35.1 million subscribers, MTN 30.1 million and Cell C over 24 million.
Kalebaila says a move to prioritise data is therefore more expected from a small and nimble player, like Telkom, which has less to lose.
"They have at least a little bit of latitude to introduce something new and test the market and shake it up. [These offers] are something the big players would take a long time to implement because they have big subscriber bases to protect."
Mopedi says in reality, the three other main competitors "don't perceive Telkom Mobile as a threat at this stage" because of its small market share.
Hurst says other network operators are likely to wait and see what kind of reception the service will have before launching their own.
"On the one hand, Telkom could steal a march on its competitors with the service, while on the other, they could end up being the pioneer but the benefits would flow to those that launch services in their wake," says Hurst.
Stealing subscribers
Hurst says Telkom's goal is likely to win customers from other networks by a creating a more competitive product. Parle points out Telkom Mobile has been struggling to gain momentum and market share, and remains firmly in fourth place when it comes to SA's mobile operators.
"However, they have had a strategy to focus on data for some time and mobile data has been one of the areas where Telkom has shown growth ? measured both in terms of revenue and subscribers. Per their last published results (for the year ended 31 March), data revenue increased by 59.4% due to a 72% growth in mobile data traffic," he says.
Mopedi does agree the new deals will have an overall positive impact on Telkom's prepaid market share, "but to what extent, only time will tell".
"At this stage, Telkom's main focus is to create a substantial market share, not necessarily to make money. This is the same strategy adopted by Cell C a few years ago. Once they have good subscriber numbers, they will probably start hiking prices like the rest of its competitors."
Hurst, however, doesn't expect to see any negative impact on Telkom's revenue from the new data offers.
"The key issue will be exactly how they balance their costs to maintain a keen eye on their margins. And as we move to this data-centric environment, operators across the globe will need to pay closer attention to this balance," says Hurst.
Data is the future that Kalebaila sees: "Telkom is giving us a preview into the telecoms market of the future where voice will become a value-added service rather than being a leading service like it has for the past few years.
"Telkom has seen the shift in customer behaviour in terms of data and is now preparing us for a data-driven future. The other operators might not react today or tomorrow, but this will be the future," he concludes.