Wearable device market set to explode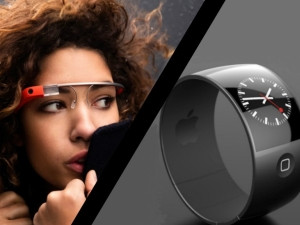 A new research report suggests wearable computing could become the norm for consumers within the next five years. This comes amid rumours of smart watch devices from Apple and Samsung, while Google Glass also edges closer to mainstream release.
ABI Research forecasts that by 2015, 485 million wearable computing devices will be shipped annually. Currently, ABI says about 61% of the wearable technologies market is attributed to sport/activity trackers. However, the research firm says a new category of smartphone-compatible watches are beginning to emerge.
"Rumours have materialised regarding Apple releasing a smart watch some time this year. Furthermore, we will see the arrival of the much anticipated smart glasses later this year," says ABI.
Google has already begun to make a developer preview version of Google Glass available, and this week announced the expansion of the preview programme to other interested consumers in the US. The latest video showcasing Google Glass has also demonstrated the strides Google has made in bringing the product closer to market, since it first released the concept video in 2012.
Senior analyst at ABI, Josh Flood, says the current buzz around wearable technologies is "unsurprising". "Apple's curved glass-based watch could prove to be a revelation in the wearable technologies market. The major question is whether the digital timepiece will act as a complementary device to the company's iPhone smartphones, or as a standalone product with other functionalities like health or activity tracking capabilities," says Flood.
iWatch patent?
Yesterday, Apple Insider uncovered a patent filed by Apple in 2011 which confirms the speculation that Apple is exploring the possibilities around a so-called 'iWatch'.
The patent application describes a "bi-stable spring with flexible display" that can be worn on a user's wrist or other body part. The device is said to be able to connect to a portable device (such as an iPhone) via WiFi or Bluetooth, in order to show information in real-time on the flexible display. The "bi-stable spring" is essentially the mechanism currently used in slap bracelets or "slap wraps".
Apple's filing states: "Typical slap bracelets are roughly one inch in width by nine inches in length. In a first equilibrium position they can be flat. The second equilibrium is typically reached by slapping the flat embodiment across the wrist, at which point the bracelet curls around the wrist and stays relatively secure in a roughly circular position."
In terms of usability, the patent application says: "With a touch-screen user input, a user can accomplish a number of different tasks, including adjusting the order of a current playlist, and reviewing a list of recent phone calls. A response to a current text message can even be managed given a simple virtual keyboard configuration across the face of the flexible display."
It has been noted that Apple may well be experimenting with many different iterations of an "iWatch" and the newly-discovered patent filing is by no means an indication of what the final product will actually be, although some of the elements may well be incorporated.
Recent reports about the rumoured "iWatch" (which Apple is said to have a large team of employees working on) have pointed to the use of a new curved glass display. Rumours of a smart watch from Samsung have also been heating up following the apparent leaking of screenshots thought to be from the new operating system of a "Samsung Galaxy Altius" smart watch.
Next frontier
ABI Research says smart watches offer additional functionality for devices that people already own. "It may become universally expected for watches to include this functionality as a feature in the future. Furthermore, the capabilities of smart watches could lead to the device being used as a wearable remote for home automation systems. A quick shake of your wrist to turn off/on room lights would be a very convenient tool."
ABI Research is not alone in its forecast that the wearable computing space is set to explode in the coming years. Last April, Forrester published a report that said wearable will extend beyond health and fitness to more verticals in 2013.
Consumer product strategy analyst at Forrester, Sarah Rotman Epps, says of an Apple iWatch: "The body is the next frontier for personal computing, and as Apple looks for new growth markets, it seems like only a matter of time before Apple enters the market directly. (Apple is already in the wearables market through its accessory partners like Nike, Jawbone, and Lark Technologies, and it sells all those devices in its Apple Stores.) "
Rotman Epps notes that success in the wearable technology space is not a given. Microsoft launched a smart watch in 2003, and discontinued it in 2008, while Fossil also made Bluetooth-enabled smart watches in 2006, but also struggled to find any traction in the market.
According to Rotman Epps, an Apple iWatch would be different though due to a number of factors: "Smartphones mean that wearables can do less: They can piggyback off the phone's display, processor, radio, and more. In 2003, there were no smartphones."
She adds that the app ecosystem will also play an integral role in the success of the device and since Apple still leads in the app space, it has an advantage over competitors. "Creating new experiences for an iWatch is a no-brainer for developers," says Rotman Epps.
"Apple can launch a new product like no other company because it owns its own retail channel, has privileged real estate in other retailers, and has a brand that's recognised even by two-year-olds. All of these factors contributed to the incredibly fast uptake of the iPad, which surpassed 100 million in sales last October."