Collaboration is the key to overcoming SA's analytical skills shortage
The term 'statistician' is generally associated with an image that has little to do with excitement.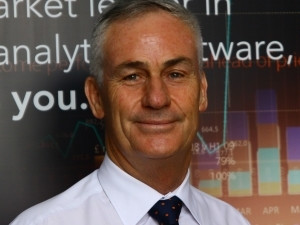 'Statistician' is a job description that conjures visions of quiet, unobtrusive people who know plenty about figures and computers, but little about the real world. And yet, in today's world, this supposedly boring profession requires some of the most in-demand and sought after skills, with companies now paying handsomely for people who can offer such statistical expertise.
In fact, says Murray de Villiers, Senior Manager: Global Academic Programme at SAS, statistical analysis and data mining were number one on last year's LinkedIn's Top Skills list in South Africa, based on job application and recruitment data.
"This year, data analytics skills were more in demand than those for software development and network security, as well as being the second most in-demand skill globally. In South Africa, organisations have clearly begun to realise that having in-house analytical skills makes them more competitive," states De Villiers.
"The ability to analyse data in real-time and to do predictive modelling enables faster, more informed decision-making, which allows businesses to better serve their customers, uncover new revenue streams, reduce risk and increase competitiveness."
Of course, it's not easy to find data scientists with the requisite skills in South Africa - this is why companies are willing to pay over the odds for people with such expertise. The level of expertise required demands that you have good programming, mathematical and statistical skills, as well as operations research, business and financial engineering skills.
"There's no doubt that this combination of skills is something that is quite rare in South Africa. A key reason for this is that few local universities collaborate with industry to establish what skills are needed in the real world, in order to properly tailor their curriculums to meet the needs and demand from industry," he says. This creates a situation where, although there are many statisticians in the country, few of them have the real-world knowledge and experience that would make them indispensable to business.
"A major challenge here is simply that universities are slow to bring their curricula in line with industry needs - it can take months for universities to amend their curricula, by which time 'new' concepts and related technology may already be outdated. Therefore, we are stuck in a situation where universities continue producing graduates who do not have sufficient skills or the relevant knowledge that businesses require."
De Villiers explains that curricula also tend to be developed from an academic point of view, rather than a practical one. This means that universities invariably produce good academics who can understand the theory very well, but who are nonetheless not necessarily good businesspeople, who can undertake analytics successfully in a business environment.
The situation is aggravated, he adds, by universities losing some of their experienced lecturing staff to industry, so the skills shortage actually reaches all the way into academia.
"Despite the fact that we face this challenge, we can also overcome it, if we can foster improved collaboration between industry and academia. If we can achieve this we will be better positioned to meet the demand for statistical skills in South Africa."
"As an example of such collaboration, SAS has collaborated with the North West University for many years in order to develop focused, relevant undergraduate and postgraduate programmes, designed to produce graduates who have a robust set of analytical skills that serve the industry's needs. Students are exposed to real-world projects in partner organisations - and work on modern solutions currently used by organisations - so that they can enter industry with first-hand knowledge and experience of statistics in the workplace," he suggests.
Furthermore, it's important that industry actively engages with universities in order to clarify their needs and follows this up with support for their teaching and research efforts. This can be done via internships and project work, as well as by providing financial support through bursaries and funding research efforts. At the same time, continues De Villiers, academia must come to the party by developing relevant academic offerings that are fit for purpose and produce graduates with usable skills.
"Statistics is finally starting to achieve its rightful place in the sun. For many years, statistics was the proverbial dog chasing the bus. Now that it's caught the bus, it needs to leverage this opportunity and ride the wave of analytics.
Only through genuine collaboration between academia and industry can we develop strong, effective and relevant skills that will lead to business improvement and increased competitiveness," he concludes.