Africa to lead smartphone growth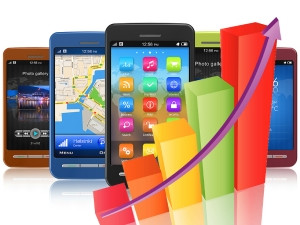 Smartphone sales figures could see the largest growth in the African market in the next few years, as developed markets become saturated with the devices, say analysts.
Research firm Gartner predicts smartphone revenue will decline in coming years as demand eases in North American and European markets, but low-cost devices in emerging markets will continue to drive sales in those regions.
The International Data Corporation (IDC) says more than one billion smartphones were sold globally in 2013, compared with 752 million in 2012.
China led the way with 351 million units sold throughout last year, and the Africa and Middle East region shipped 130 million units, where Gartner says sales grew by 50% in the fourth quarter.
Ovum analyst Richard Hurst says Africa remains a growth spot for smartphone sales "due to the limited fixed-line infrastructure, the ubiquitous nature of mobile across the continent, and the fact that many will have their first Internet experience via the mobile device".
Hurst notes the African market is positioning itself for further growth by creating relevant mobile applications and content. "In this instance, we could look at the mobile development in Kenya where developers are creating home-based apps designed to meet the needs of the local market," he adds.
In SA, the Wireless Access Providers Association (WAPA) predicted increased smartphone penetration for 2014 as mobile carriers encourage uptake and consumption of mobile data.
According to WAPA, local consumers will begin to take advantage of "mobile-first" strategies adopted by the private sector, as services such as banking and retail are made available to smartphone users.
Cheaper devices
As some of the world's biggest manufacturers turn their attention towards growth, a significant number of companies have offered cheaper alternatives in emerging markets.
According to the IDC's Worldwide Quarterly Mobile Phone Tracker, the Middle East and Africa region shipped around 140 million smartphones, which cost less than $100 in the fourth quarter of 2013. India sold more than 200 million, while Asia sold 130 million units.
In contrast, Western European countries sold around 40 million low-cost devices, while North America shipped just over 10 million.
Hurst says cost will remain a key factor for African consumers, and vendors on the continent have taken this into account.
Nokia unveiled a new range of low-cost smartphones at this year's World Mobile Congress and has targeted consumers in emerging countries, while its new Asha range was unveiled to the South African market earlier this month.
Google's Motorola Moto G and Apple's iPhone 5C were also punted as the cheaper, more accessible alternatives when the devices were launched last year.
Although affordable prices make devices available to more people, Hurst notes manufacturers "must be aware there will be some sacrifices in terms of functionality and experience, and a bad user experience could serve to hamper the market rather than give impetus".
Local content and applications will also need to be affordable in addition to being relevant to local users, says Hurst.
"In this instance, one can see that partnerships between mobile network operators and content providers and application developers will flourish," he says.