SA women pioneer science, tech innovation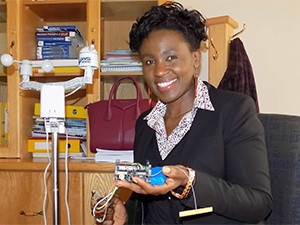 South African women scientists and researchers are driving the knowledge and innovation needed to reverse poverty and inequality as defined in the country's National Development Plan.
This is according to minister of science and technology Naledi Pandor, who lauded women empowerment to develop science, technology and innovation initiatives that bring sustainable development.
Pandor says: "The work on sustainable livelihoods gives priority to basic resources and services in the areas of energy, water, food (agriculture), ICT and the bio-economy."
On 9 August, SA commemorated the 60th anniversary of the 1956 Women's March to the Union Buildings in Pretoria. As part of these celebrations, the Department of Science and Technology (DST) hosted its annual Women in Science Awards (WISA) last week, which echoed the theme of the women's march 60 years ago.
"I am proud of the work that has been done by our women scientists and which is being recognised in the 2016 Women in Science Awards," she says.
Although Pandor celebrates the work women are doing in the field of science, she notes the task of full empowerment of SA's women in science is not yet complete.
"I hope that women in science will go from strength to strength and continue to inspire other women (and men) to scientific curiosity and research excellence in service of other people."
Innovative solutions
One woman scientist who is using research to provide relief to the farming sector is senior lecturer and head of ICT at the Central University of Technology in the Free State, Dr Muthoni Masinde.
WISA named Masinde the winner in the category of "Distinguished Young Women Researchers: Research and Innovation" for her early drought warning tool.
The tool, called the Information Technology and Indigenous Knowledge with Intelligence (ITIKI), integrates indigenous and scientific drought forecasting approaches to accurately predict droughts.
The World Bank defines indigenous knowledge as the local knowledge that is unique to a given culture or society.
According to Masinde, indigenous knowledge ensures the tool is relevant, acceptable and resilient. "ITIKI further employs mobile phones, wireless sensor networks and artificial intelligence to enhance the system's effectiveness, affordability, sustainability and intelligence."
Masinde told ITWeb she came up with the drought tool after she realised that in most African countries, rain-fed agriculture accounts for over 70% of food production.
She explains: "There is no appropriate drought-forecasting tool for these farmers, and in the face of climate change, negative effects of droughts continue to worsen and affect millions of people. These farmers also find the terminologies used in scientific weather and drought forecasts are difficult to translate to their contexts. Most have no access to the dissemination media used for these drought weather forecasts; for instance, they have no access to the Internet and newspapers."
Masinde notes the tool was recently used to forecast short-term drought in Bloemfontein and KwaZulu-Natal. "In the past, the tool was used to forecast short-term, medium-term and long-term droughts in Kenya and Australia."
Commenting on winning the WISA, Masinde says she will use the award to encourage more young women to believe in their abilities as scientists.
"I am absolutely certain that with these awards, and listening to the different life stories of all the awardees, many young and upcoming women scientists have been motivated to raise their aspirations knowing they too can attain outstanding achievements no matter where they are or have come from, because it is possible for women too, to be great scientists and innovators."
Scientists rock
WISA also awarded other women for their role in advancing science and building knowledge.
Professor Vhonani Netshandama was awarded this year's Distinguished Women Researchers in the Humanities and Social Sciences award.
Netshandama was the initial facilitator of the establishment of Mukondeni Filter Factory, a water filter factory.
This was a spin-off collaborative project of the University of Virginia, UniVen and Mukondeni Pottery near Elim in Limpopo, where the Mukondeni potters were trained to make ceramic water filters.
The emerging young scientist award went to a former winner of the DST doctoral fellowship, Caroline Pule, for her research into tuberculosis (TB).
Her research focused on understanding the physiology of drug-resistant and tolerant TB, and how these bacteria modulate the host response in the context of the macrophage infection model.