Snappy startup
If a service is free, making money off it requires creativity. Nifty250 is doing just that.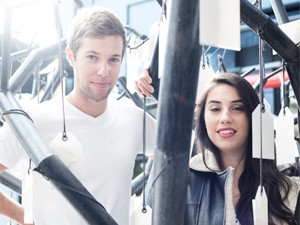 The rising popularity of digital (and mobile) photography has seen the culture of film photography waning - owning a film camera and developing photographs has become expensive and inconvenient. Nifty250 is a Cape Town startup aiming to bring digital snapshots into the real world.
Not all tech startups have to be serious or change the world in some profound way. If there's a need and a startup can fulfil that need, there doesn't even have to be a stand-alone original business idea. There's room for small businesses to grow, when standing on the shoulders of giants like Instagram.
Instagram is a free-to-use social sharing platform that gained popularity by bringing the nostalgia of Polaroid cameras to smartphones. Snap a picture, apply a filter and share photos to a network of online followers - it's that simple.
Nifty250 focuses on the social aspect of the technology we use and monetises our collective need to share (and keep) beautiful photos. Launched in 2013 by Roxy Rosenberg as 250gram, it was bought out by Lucas Adams six months later.
He also owns product design and manufacture brand Kraftisan, so this is not his first time dipping his toes in entrepreneurial waters. Together with girlfriend and partner Talya Goldberg, Adams then spent six months working on the concept from the ground up.
250gram became an online e-commerce service that allows South African users to log in with their Instagram account details, select and pay for their favourite photos to be printed like Polaroids, which are then beautifully packaged and delivered within a few days.
"250gram is the first of its kind in South Africa to offer a seamless Instagram printing service," says Adams, "and although the initial idea was bought from someone else, everything else has been the result of many sleepless nights, hard work, research and refinement that culminated in the launch of our new e-commerce website and service in January 2014."
The duo looked at some of SA's top e-commerce players, drawing inspiration from the likes of Yuppiechef, a brand that is widely adored in social networking circles for its approach to customer service. Adams and Goldberg decided to narrow their focus to a single format - printing Instagram photos. "We wanted to be first to market and build a strong brand name that people would instantly associate with Instagram printing," notes Adams.
Just two months after building and launching their new e-commerce site, 250gram.co.za, and after much time and money was poured into their branding and product packaging, Adams and Goldberg ran into some legal trouble with Instagram. If they wanted to continue their business of using the Instagram API to allow their customers to connect their accounts, they'd have to play by Instagram's rules. This meant they'd have to change their name and remove references to 'Insta' and 'gram'.
Social printing
The duo took this hurdle in stride and called on their customers and social media communities to help them come up with a name that reflected their business, within the developer guidelines laid down by Instagram. With a year's supply of prints as the prize, over 300 alternatives were submitted. 'Nifty250' was declared the winner - a solid example of the power of social media and crowd-sourcing in a business setting.
While some entrepreneurs might think it folly to have a single business offering, Adams and Goldberg disagree. "One format might seem boring, but we really want to refine our internal systems and get the product out as quickly as possible, before offering alternatives."
It's also risky building a business based on another business, and Adams acknowledges this. "If Instagram were to suddenly become uncool, we'd have a problem. But that's where alternative product formats would come in."
As to whether there is a market for other formats for photo prints, Goldberg admits that she reads dozens of e-mails daily from customers asking for magnets, stickers, cushions, square prints and the like. "Right now," she says, "it's a simple case of executing one beautiful product at a time and doing it well, instead of the 'give them everything' tactic with mediocre execution."
Goldberg also graduated from UCT, with a Business Management Science degree, and focuses her attention on Nifty250's branding, strategy and social channels. The key to Nifty250 success, she believes, lies in providing the best personalised customer service. "As lovely as it is to instantly post and share your photos online with your friends, people will always want to keep tangible reminders - photos on the fridge or on their desk," she says.
In e-commerce, customer service these days boils down to presentation and personalisation. Nifty250 does this with striking packaging and handwritten notes. It's also the only business in the country to offer live location-based hashtag printing. Called 'social printing', this service prints all photos sourced from the event's hashtag and provides incentive for attendees to upload photos to Instagram with the reward of beautifully printed Polaroids at events.
The long-term plan for Nifty250 involves building an app that will let customers upload and order photos easily and directly from their smartphones. This should stand Nifty250 in good stead, should the novelty of Instagram ever wear off. Until then, Adams and Goldberg are content with finding new ways of fuelling South Africa's obsession with square-cropped, filtered photographs.
First published in the May 2014 issue of ITWeb Brainstorm magazine.