Apple sets ambitious recycling target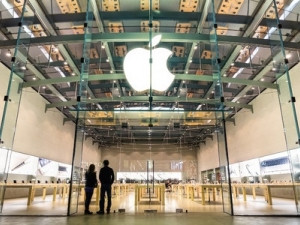 Apple has committed to use 100% recycled materials for the fabrication of its devices.
Apple is the world's largest IT company by revenue, the largest technology firm by total assets, and the second-largest mobile phone manufacturer, by volume, after Samsung.
Its hardware products include the iPhone smartphone, iPad tablet computer, Mac personal computer, iPod portable media player, Apple smartwatch, and Apple TV digital media player.
In its 2017 Environmental Responsibility Report, covering fiscal year 2016, Apple's 10th annual update, the electronics giant highlights the ambitions it has for the company and the progress towards meeting them.
Apple's comprehensive carbon footprint last year was 29.5 million metric tonnes, compared to 38.4 million in 2015.
The company explains that a variety of factors contributed to the 23% decline, including benefits of its environmental programmes, a year-over-year decline in the total number of products sold, and changes to its carbon footprint calculations.
The Cupertino-based company says in 2016, 96% of the electricity used at its global facilities came from renewable energy, reducing carbon emissions by nearly 585 000 metric tonnes.
Environmental activist group Greenpeace has since commended Apple's efforts. "Apple's commitment to 100% recycled materials is ambitious, and highlights the need for greater urgency across the sector to reduce resource consumption and e-waste that are causing significant impacts on the environment and human health," says Gary Cook, Greenpeace senior IT analyst.
According to Cook, transitioning to non-virgin raw materials will help to decrease the demand for mined metals and other inputs, and increase recycling rates of electronics directly.
"This commitment, and Apple's recent progress in transitioning its supply chain in Asia to renewable energy, puts it far ahead of others in the sector. Major IT brands such as Samsung, Huawei and Microsoft should quickly match Apple's leadership, if they don't want to risk falling even further behind."
Apple's announcement comes less than a month after Samsung's commitment to refurbish and recycle 4.3 million Galaxy Note 7s recalled worldwide.
"We're pushing our manufacturing partners to join us in the fight against climate change," says Lisa Jackson, Apple's vice-president of environment, policy and social initiatives.
"Seven major suppliers have now pledged to power their Apple production entirely with renewable energy by the end of next year. And we're making strides towards our commitment to bring 4GW of renewable power online by 2020, a key step in reducing our manufacturing footprint."
Apple notes traditional supply chains are linear. It explains that materials are mined, manufactured as products, and often end up in landfills after use. Then the process starts over and more materials are extracted from the earth for new products.
"We believe our goal should be a closed-loop supply chain, where products are built using only renewable resources or recycled material," Jackson says. "We already have programmes in place to ensure the finite materials we use in our products are sourced responsibly through strict standards and programmes on the ground that drive positive change. We're also challenging ourselves to one day end our reliance on mining altogether."
To start, she notes Apple is encouraging more customers to recycle their old devices through Apple Renew, the company's recycling initiative.
"And we're piloting innovative new recycling techniques, like our line of disassembly robots, so we can put reclaimed materials to better use in new products. It's an ambitious goal that will require many years of collaboration across multiple Apple teams - our suppliers, and specialty recyclers - but our work is already under way," Jackson notes.