What went wrong for iBurst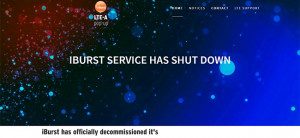 The phasing out of the iBurst service in SA was inevitable, given the aggressive roll-out of high-speed broadband networks by both mobile and fixed broadband service providers. This is according to Africa Analysis senior analyst Ofentse Mopedi.
"With the maximum connection speed of up to 2Mbps, and not improving for a decade, it was inevitable iBurst would eventually reach its sell-by date," he says.
The Multisource-owned company officially decommissioned its services at midnight on 31 August after over a decade in the market.
"The technology currently has no place in SA given the ongoing roll-out of newer technologies that can support much higher connection speeds. When operators such as Neotel started to discontinue the sale of services below 2Mbps speeds about three years ago, it was a clear sign the country's thirst for high-speed broadband solutions was growing," says Mopedi.
In December 2004, Wireless Business Solutions (WBS), now Rain, announced iBurst was launching in SA. At the time, WBS promised iBurst would offer an effective and affordable alternative solution to conventional Internet access technologies. SA was the first country in Africa and the second in the world after Australia, to introduce iBurst technology to the market.
iBurst used IEEE 802.20 or Mobile Broadband Wireless Access (MBWA) technology, which was a specification by the Institute of Electrical and Electronics Engineers (IEEE). The iBurst technology was originally developed by ArrayComm to optimise bandwidth and was driven commercially by the Japanese vendor Kyocera. However, as wireless innovations accelerated over the years, this technology became a relic that could not keep up with the evolution of other competing technologies.
Brian Neilson, director at BMI-TechKnowledge, believes iBurst never really fulfilled its potential as an alternative access technology due to the competition from other wireless access methods that emerged before it could achieve critical mass.
"This came from two sources: firstly, the launch of 3G services by the mobile operators, and secondly, from wireless Internet services providers, which became ubiquitous and offered good value. In addition, ADSL as a fixed-line technology became so much more attractive after the advent of Seacom brought cheap international bandwidth, which led to the launch of uncapped services, started by MWEB."
World Wide Worx MD Arthur Goldstuck agrees the closing of the brand has been a long time coming.
"After initially taking off as a more cost-effective alternative to 3G, it peaked in 2009 and then stagnated as shareholder Vodacom failed to leverage its high-speed potential. It was sold as an ADSL replacement, at equivalent speeds, rather than as a precursor to 4G at much higher speeds than ADSL. It then began a swift decline as roll-out stalled and service levels deteriorated as the technology fell behind 3G evolution," Goldstuck adds.
Mopedi says at the time of its launch, it was a ground-breaking technology that offered much higher connection speeds compared to competing technologies available at that time, such as Edge, GPRS and dialup services.
"The challenge, however, is between 2005 and 2007, when iBurst was gaining popularity in the market, mobile operators where starting to roll-out to faster 3G platforms such as HSDPA, HSUPA and HSPA+, while ADSL connection speeds were also improving. This was an ominous sign highlighting that iBurst was indeed about to face strong competition, particularly because the iBurst technology never evolved to offer much higher speeds, as was initially planned."
Mopedi says when you look at other markets where this technology gained a bit of traction, when it was initially deployed, those gains were quickly reversed with the advent of newer and faster technologies such as 3G and LTE.
"Almost in all cases these technologies resulted in the demise of iBurst, with subscribers beginning to decline significantly as the roll-out of such newer technologies progressed to higher population coverage," Mopedi says.
Technology obsolescence
In a cancellation notice to subscribers, iBurst said the decommissioning of the brand was "due to technology obsolescence", saying it was "no longer viable technically or commercially for this technology to be supported".
Goldstuck says it was as much a failed technology as an obsolete technology.
"The problem with iBurst is that it was almost a proprietary technology, despite being an open standard: it had only one developer and one equipment manufacturer. It may have been cutting-edge at the time, but the fact that it was also only licensed to one local player meant it was always going to be limited in roll-out, reach and evolution. By the time the standard was dropped by the IEEE in 2012, it had been rolled out in barely a dozen countries. So it was a bet on a technology that failed," Goldstuck explains.
"The very name, implying marriage to a fading standard, spelled out its demise," he adds.
"The telecoms market is constantly evolving and what is driving revenue growth for the company today should not be expected to sustain this growth a decade later. Constant research and investments in newer technologies is critical for survival of telcos in this highly competitive sector. Already, companies such as Vodacom are preparing to embrace the era of 5G technology, as this is the next destination for mobile operators," Mopedi says.
The new WBS
WBS was established in 1999 and owns 100% of iBurst and 70% of telecoms provider Broadlink. WBS has seen its own evolution over the past few years; in November 2015, it was acquired by global convergence technology company, Multisource.
In September 2016, WBS announced plans for a multibillion-rand investment, over the next five years, to build a new high-speed 4.5G national data network in SA. The LTE-Advanced (LTE-A) network uses existing sites and facilities leased from independent tower companies and other telecommunications networks. WBS rebranded as Rain in June 2017.
With iBurst closing up shop, its customers have been migrated to Rain's LTE-A network, which analysts believe is a good thing for consumers.
"I think iBurst customers moving to Rain's LTE-A will not be disappointed, as it seems to be a great service, and is certainly at the forefront of technology. It was becoming pointless for Multisource to support both iBurst and LTE, and the choice to migrate the customers was made at the right time," Neilson says.
"We are seeing a very astute management and technical team making the most of its core assets, rather than being married to the nostalgia of an old brand," adds Goldstuck.
"I think the move to disinvest in iBurst was a good one, as the company did not want to continue flogging a dead horse. For Rain to be able to effectively compete with dominant players in the broadband market, it was necessary for the company to go this route.
"Multisource is in a process of overhauling operations of its subsidiaries for them to remain relevant in the market. If they continue with their aggressive LTE-A network roll-out drive, and continue offering great deals, Multisource could emerge as one of the dominant players in the broadband market," Mopedi concludes.