ISACA South Africa Chapter presents 2016 Annual Conference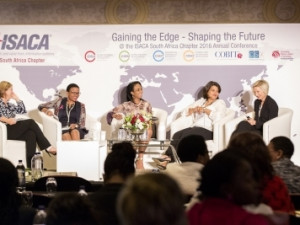 The annual ISACA South Africa Chapter conference was held at Emperors Palace, in Johannesburg, on 29 and 30 August 2016. The event's theme was: "Gaining the edge - shaping the future", and was attended by over 450 delegates. The event was opened with an insightful call-for-action welcome address by the ISACA South Africa Chapter President and ISACA Board Member, Tichaona Zororo.
Industry leaders, both local and international, amazed the audience with their knowledge and experience of current trends and developments.
The delegates were moved with the motivating and inspiring talks by keynote speakers Dr Claudelle von Eck and Bruce Walsh.
The programme featured a variety of sessions, including three panel discussions on women in technology, COBIT and cyber security. The panels comprised both local and international industry experts.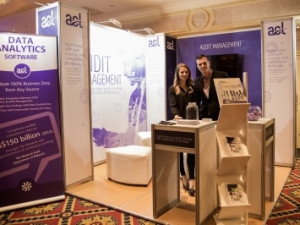 Local speakers included Angella Makowe (BDO), Barbara Jaftha (Anchored Roots), Prof Basie von Solms (University of Johannesburg), Beatri Meyer, Dr Petrus 'Beer' Duvenage (Government, UJ), Dr Brett van Niekerk (Transnet, UKZN), Bruce Walsh, Carolynn Chalmers (Candor Governance), Dr Claudelle von Eck (The Institute of Internal Auditors South Africa), Craig Summers (Barclays), Craig Wilkinson (Father-A-Nation), Gary Hardy (IT Winners), Jason Jordaan (DFIRLABS), Jerusa Verasamy (MTN), Junaid Amra (PricewaterhouseCoopers), Justin Williams (MTN), Kgabo Ralebepa (V-SIC), Liaane de Witt (Ekurhuleni Metropolitan Municipality), Dr Mariana Carroll (Mariana Carroll Consulting), Michiel Jonker (Grant Thornton), Omar Hassan (Barclays), Oupa Mbokodo (Grant Thornton), Patrick Ryan (Mobius Consulting), Peter Hill (IT Governance Network), Rachela Shachman (CQS GRC Solutions), Raymond du Sandhya Mohan-Pillai (Mobius Consulting), Sean Howell (Redshift Cyber Security), Sizwe Snail (Snail Attorneys ) Tichaona Zororo (ISACA South Africa Chapter), Tunde Ogunkoya (DeltaGRiC Consulting), and Winston Hayden (Old Mutual).
International speakers included John G Tannahill (J. Tannahill & Associates), John Thorp (The Thorp Network), Mark Thomas (Escoute Consulting), Peter Harrison (Value Management Consulting), Rams'es Gallego (Symantec) and Robert Clyde (Clyde Consulting).
The sponsors and exhibitors displayed their services and products, while the catering, venue, entertainment and the cocktail evening supported networking among the delegates, sponsors, speakers and board members.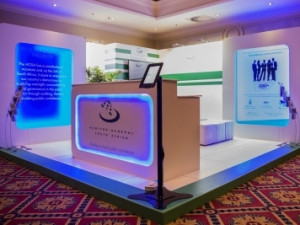 ISACA South Africa Chapter would like to acknowledge the continued support of its sponsors and express appreciation for the several sponsored prizes that added to the delegates' excitement.
* Platinum Sponsor: The Auditor-General of South Africa (AGSA)
* Gold Sponsor: ACL
* Silver Sponsor: Ernst & Young, PwC, Sizwe Ntsaluba Gobodo
* Display Sponsors: Bitrate, Deloitte, IIA South Africa, IT Governance Network, IT Winners, Mobius Consulting, and Wits University
* Mobile App Sponsors: Grant Thornton, Outsystems
Feedback from our delegates highlighted the value gained from the conference, and included comments such as: "Congrats ISACA for bringing such quality, knowledgeable people together for us. One of the best conferences I've attended so far"; and: "ISACA provides continued support even after the conference. It's not late to be part of the this knowledge society#isacazaconf".
Vice-President Arlene Volmink surprised the delegates with news of the second Africa CACS that will be held in Accra, Ghana on 11 and 12 September, and the ISACA South Africa Chapter 2017 Conference that will be held at Sandton Convention Centre in Johannesburg on 28 and 29 August 2017.
The theme for 2017 will be: "A world of opportunities".
Join us at the 2017 conference by registering as an attendee, sharing your real-world experiences as a speaker and/or display and market your brand as a sponsor at our 2017 conference.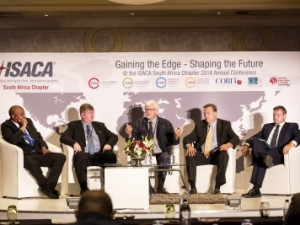 For more information on registration, speaker opportunities and sponsorship packages, please contact the ISACA South Africa Chapter Office at admin@isaca.org.za. We look forward to seeing you there!
Contact ISACA South Africa:
E-mail: admin@isaca.org.za
Web site: www.isaca.org/south-africa
Phone: (+27) 11 236 8616
Facsimile: 086 684 2979
Participate in the ISACA Knowledge Center: www.isaca.org/knowledge-center
Follow ISACA South Africa on Twitter: https://twitter.com/ISACAZA
Join ISACA South Africa on LinkedIn: www.linkedin.com/company/isaca-south-africa
Like ISACA South Africa on Facebook: www.facebook.com/ISACAZA
Follow ISACA South Africa on Instagram: ISACA SA Chapter
Subscribe to the ISACA South Africa YouTube Channel:
https://www.youtube.com/channel/UChmcznsOR-YecfPrPXZ5csQ