Kenya's Equity Bank launches ultra-thin SIM tech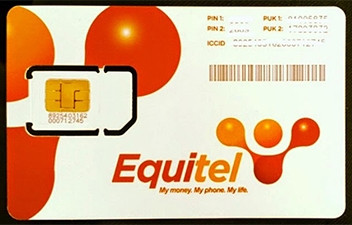 Ultra-thin SIM technology is finally live in Kenya, which means Equity Bank's mobile subsidiary Equitel can compete in the country's mobile money space.
The ultra-thin SIM is a product of Kenya's Equity Bank and mobile operator Airtel, and was launched yesterday under the bank's Mobile Virtual Network Operator (MVNO) Equitel.
The ultra-thin SIM technology is a 0.1mm thin film that is placed directly on a subscriber's existing SIM card to enable access to more than one network. Users can make calls, SMS, use data and access mobile money services.
Equity Bank, one of the leading banks in Kenya with nearly nine million accounts, was awarded an MVNO licence by the Kenyan Communications Authority in April 2014 to trial thin SIMs for one year.
James Mwangi, MD of Equity Group Holdings Limited, said Equitel had already registered over one million users since receiving the MVNO licence.
However, a lengthy legal battle about the security of the thin SIMs prevented Equity from rolling out its product.
Telecoms operator Safaricom had issued a complaint to the CA, arguing that risks such as PIN theft and denial of service could occur with the thin SIM technology.
Yesterday's launch of the thin SIMs means Equitel can finally compete in Kenya's mobile money space, which has been dominated by mobile operator Safaricom with its M-Pesa offering. Safaricom claims to have over 20 million M-Pesa users in Kenya.
Ultra-thin SIMs
John Staley, chief officer for finance, innovation and technology at Equity Bank, said Equity had to get control of the SIM card to provide affordable, secure mobile banking to its customers.
"Safaricom is resistant towards the technology because it sees it as a threat to one of their main offerings, M-Pesa," said Staley.
"We needed to look for a technology where we could give affordable, secure mobile banking to our customers and the only way you can do that is by controlling the channel yourself because USSD is a very cheap channel. If you can control the USSD channel, then you don't have to charge your customers, and they can do banking for free from a telecommunications point of view," he said.
Ovum's senior telecoms analyst in Kenya, Danson Njue, said ultra-thin SIMs going live was an opportune time to observe and analyse the impact of the new technology in the market, especially competition-wise, as well as flag security concerns.
According to Njue, Kenyans who are Equity Bank account holders won't require dual SIM phones to enjoy services from other service providers.
"I think this is a good move for the country's telecoms market. Being a new technology, it's good for competition," he said.
Outside Kenya
According to Staley, Equity plans to provide thin SIM technology across the East African region.
"We're targeting a hundred million customers and every single one of those customers will be able to send money, buy goods and pay utility bills. We're very excited because we think we can create the 'M-Pesa' of not only East Africa, but also the rest of Africa and we can do it on an interoperable basis," said Staley.
Njue agreed that Equity's ultra-thin SIM technology could expand beyond Kenya. Equity Bank has operations in other neighbouring countries where Airtel also has a presence. However, the outcome will depend on the regulatory environment in those markets, he said.