Spectra Graphics launches digital business with Xerox
Cape-based Spectra Graphics has launched a new range of digital printing services with the purchase of a Xerox Color C70 printer/copier from Cape Office Machines and Bytes Document Solutions.
Traditionally a latex signage and large format print business, Spectra Graphics owners Jeremy and Bridgette Andrews say the company was eager to explore new higher-volume, lower-cost printing opportunities to complement the signage business.
"Until now our business focused on large-format, lower-volume products that cater for a niche market, and while we've performed very well in that regard, we've also noticed an upswing in customers asking us for more standard print products such as business cards, flyers, booklets and other stationery," says Jeremy Andrews.
"While investigating different solutions to make that happen we met Stuart Daniels and the Cape Office team, who educated, advised and guided us towards what we needed and how to make it work," he says. "It made a big difference to us, starting at ground zero, to have the support of someone so experienced and knowledgeable, and to have access to products that are so far ahead of anything else in their price range regarding quality and features."
Opting for the Xerox Color C70 gave Spectra Graphics instant access to the industry standard-setting print quality and colour accuracy of the Xerox family of printers, including one of the highest resolution print engines in its class. The C70 features Xerox's Ultra HD (2400x2400 dpi) print engine which, when combined with Xerox Emulsion Aggregation (EA) Low Melt Toner technology, produces immersive print quality with smooth transitions and an offset-like finish.
The C70 makes it easy to get professional results without extensive training, with features such as Xerox's Simple Image Quality Adjustment (SIQA) tool to scan and register different media types and automate the output quality regardless of substrate. It is also highly resilient, with support for Xerox Smart Kit Customer Replaceable Units - slide-in and slide-out replacement units that include drum rolls, fuser, charge corotron assembly and waste toner bottle - to keep the printer running during maintenance calls.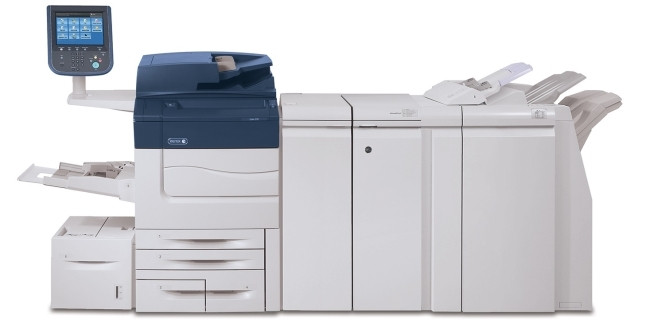 "Almost every feature and function of the C70 printer is useful for smaller businesses just starting up, or more established companies looking to supplement their existing machines or step up to next-generation print technology," says Daniels.
"Whether you're just entering the market, or 'testing the water' to find new opportunities for your growing business, an investment in a scalable, reliable printer like the C70 that doesn't compromise on quality and comes with the backing of a global print leader like Xerox is always the way to go," he says.
Jeremy Andrews says the stop-start nature of the signage business, with its low-volume high-value products, made it difficult for the company to build consistency.
"We wanted a way to grow without necessarily taking the focus away from our core business," he says. "Now that we have the C70 in place and we know what it can do, we're having to rethink that focus. It has opened a whole new world of business opportunities for us, and the very nature of the products means we can keep the scoreboard ticking over much faster than before."
"Right now we're pushing the printer to its limits. We have large format printers that are world renown for their quality, but this little printer is matching - even surpassing - what they can do, albeit on smaller media," he adds.
"I'm particularly impressed by the quality of its smaller prints, like logos, which reproduce every time with incredible clarity and colour accuracy, which makes our products stand out from other walk-in printers in our area. If we continue along this path, who knows what our business might look like in 12 months' time. By then the C70 will have paid for itself many times over."