Universities unite to boost SKA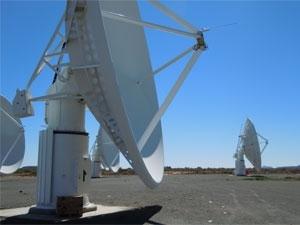 Three South African universities have teamed up to address the shortage of data scientists, who are required for the Square Kilometre Array (SKA) project.
Demand for these skills in SA is set to increase when the SKA radio telescope goes live. Data scientists will be required to interpret and analyse the vast amount of data that will be produced.
However, there is already a dearth of these skills in SA, with fears that this will result in the data generated by the SKA being shipped and hosted overseas.
According to the Department of Science and Technology, for "healthy participation" in the SKA, SA will need 200 data scientists when the project is live.
The skills challenge in this field led to the partnership of three of the country's universities. The University of Cape Town, University of the Western Cape and North-West University have joined forces to form the Inter-University Institute for Data-Intensive Astronomy (IDIA).
"If we cannot fill the need for data scientists in South Africa, we will fall behind the world economy," says IDIA founding director, professor Russ Taylor.
"The leading-edge of the knowledge and information economy is increasingly driven by analytics of big data. If we cannot fill the gap as a country, we will be less and less competitive on the world stage," he adds.
Working together
According to Taylor, forming IDIA is a way of enabling South African universities to jointly advance within the global SKA project and lead in data science.
IDIA aims to bring together researchers in the fields of astronomy, computer science, statistics and e-research technologies, to create data science capacity for leadership in the MeerKAT radio telescope and SKA, he says. The MeerKat radio telescope is a precursor to the SKA telescope.
"Universities that rise to the challenge of the data revolution will be globally competitive in this new era of data-intensive research."
Taylor explains that if SA does not build the capacity for extracting the science from the vast amounts of data that will be produced, then the rest of the world will make scientific discoveries from the SKA while SA only provides the data.
"We need to be leaders not data providers."
Construction on the SKA is planned to start in Carnarvon, Northern Cape, in 2017/18, with some elements operational by 2020 and full operation under way in 2025.