Newland fires up the AIDC market with the launch of a 2D Imager at the price of 1D!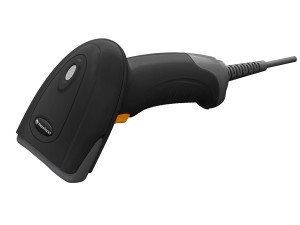 Newland EMEA today introduced the HR22 Dorada 2D imager, an innovative scanner that offers affordability without compromise. The HR22 Dorada allows users to enjoy the capabilities of a 2D imager being offered for the price of a 1D imager, which will be causing a serious ripple in the AIDC market!
The vastly increasing use of online-to-offline (O2O) applications, particularly barcodes used on mobiles, means that businesses need to ensure they can scan a variety of barcodes and symbologies on a variety of surfaces. With this development in mind Newland launched the HR22 Dorada as a versatile and affordable solution. Whether you need to read barcodes printed on paper or displayed on a (mobile) screen, the HR22 Dorada effortlessly captures nearly all high-density, high-volume and distorted barcodes at an impressive speed.
This translates into an enhanced user experience. Marrying ergonomics and aesthetics in its design, the HR22 Dorada ensures operator productivity, providing comfortable use even during the most intensive handheld scanning. With an IP42 rating and a drop resistance of up to 1.2m, the scanner offers a durable and reliable solution. This makes the HR22 Dorada capable of meeting the needs of any application, among which inventory management, Track and Trace, healthcare, product traceability, point of sale, ticket management and much more.
Peter H Sliedrecht, CEO of Newland EMEA: "As our motto is 'Scanning Made Simple' we consider it our duty to offer outstanding scan technology at an affordable price. We are shaking up the AIDC market by now bringing an excellent 2D imager at the price of a 1D imager. Breaking the existing price barrier between the two technologies has been made possible by using our new third-generation 2D decoder chip."
The HR22 Dorada will be available in South Africa from July 2016 onwards.
For more info, please visit http://newland-id.com/sa and / or contact it on +27 21 914 0819 and / or steven@newland-id.co.za.