GTconsult proudly invites you to the first ever code:RED, InfoSec Briefing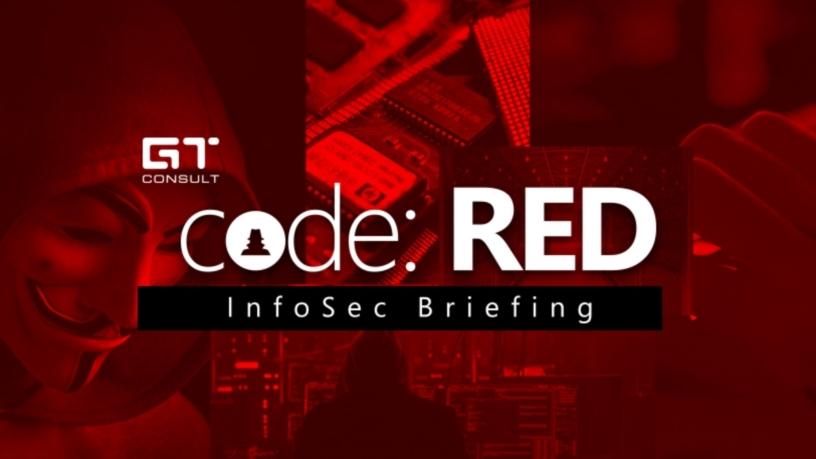 In an age where technology is everything to everyone in this world, criminals have become more intelligent and technologically driven. And they are looking for your info.
InfoSec has become a very important aspect of everyday life. GTconsult wants to bring more awareness to this very important topic of information security by showcasing how real-world attacks occur on a daily basis by industry experts, and what measures you need to take to be more secure.
The GTconsult conference will host security experts in the industry, and they will give you insight on how hackers get your information and how you can keep yourself secure.
Some of the topics we will cover include:
* Security culture in a business
All the protection policies, procedures and best practices of a company can be bypassed by one employee's negligence.
Creating a security culture in any business is a baseline security implementation and cannot be underestimated. In this session, we will cover why, how and what security culture is required in a business.
* Can hardware and software protect me?
There are several companies out there claiming their hardware or software will be a complete package to securing your business.
GTconsult will test drive these products and run them through modern attacks to see if their claims are true.
* What are attackers after?
A few people believe that because they do not keep sensitive information that could be sold, they are not vulnerable to attackers.
This notion couldn't be further from the truth. Attackers are not always after money; sometimes it's a malicious attack or just a thing of pride that might cost you your reputation and/or massive downtime. In this session, GTconsult will analyse the attackers' mindset and what their motivation is.
* Red, blue, purple teaming insights
GTconsult will show you how red, blue and purple teaming was adopted and how this practice is becoming an essential requirement for any business that takes security seriously
Dates, time and location listed below:
* 3 September 2018, 8:30am-2pm
Durban Country Club, Durban
* 4 September 2018, 8:30am-2pm
Microsoft Bryanston, Johannesburg
* 5 September 2018, 8:30am-2pm
The River Club, Cape Town
* The date and location of the United Kingdom event will be confirmed in the near future.
Seats are limited. Reserve your place now to avoid disappointment. The line-up may change per location and speaker availability.
For more information and how to register, visit https://www.gtconsult.com/code-red/.