Mobile subscriptions breach world population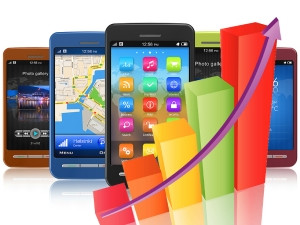 For the first time, global mobile subscriptions have surpassed the world population.
This is according to the Ericsson Mobility Report for 2016 released prior to the Mobile World Congress event set for next week. The report says as at Q4 2015, there were about 7.3 billion mobile subscriptions in the world. Ericsson believes the number will shoot up to 9.1 billion by 2021.
The United Nations estimates the world population to be about seven billion.
Global mobile subscriptions are growing around 3% year-on-year, the report says, noting India grew the most in terms of net additions during the quarter (over 21 million added), followed by China (over six million added), the US (over five million), Myanmar (over five million), and Nigeria (over three million).
Just like India, Africa added 21 million mobile subscriptions in the quarter, with the continent edging closer to a billion subscriptions.
Smartphones accounted for around 75% of all mobile phones sold in Q4 2015, compared to around 70% during Q4 2014, says Ericsson. Today, around 45% of all mobile phone subscriptions are associated with smartphones, compared with around 40% in 2014, leaving considerable room for further uptake, it points out.
The number of mobile broadband subscriptions is growing globally by around 25% year-on-year, increasing by approximately 200 million in Q4 2015 alone, says the report.
LTE subscriptions continue to grow strongly and the total figure has reached around one billion subscriptions, with approximately 160 million additions in Q4 2015.
WCDMA/HSPA added around 30 million during Q4. The majority of 3G/4G subscriptions have access to GSM/EDGE as a fallback, and GSM/EDGE-only subscriptions declined by 90 million. Data traffic grew around 12% quarter-on-quarter and 65% year-on-year.
Neuroscience technology
Rima Qureshi, senior vice-president and chief strategy officer at Ericsson, says in the report, Ericsson introduced a neuroscience study that captured objective reactions to varied levels of network performance while using a smartphone.
Neuroscience technology was used to measure emotional responses to varied smartphone experiences.
Brain activity, eye movements, and pulse were recorded while subjects completed various tasks by browsing the Web and watching video clips. Changes in the perception of mobile network operators and content providers before and after network usage experiences were also measured.
Participants were exposed to a high degree of delays, a medium degree of delays or no delays at all while they completed tasks, allowing a detailed analysis of how the duration and extent of delays affected emotional engagement and stress.
According to the study, delays in loading Web pages and videos under time pressure caused mobile users' heart rates to rise an average of 38%.
Six-second delays to video streaming caused stress levels to increase by a third. "To put that in context, the stress incurred is equivalent to the anxiety of taking a math test or watching a horror movie alone, and greater than the stress experienced by standing at the edge of a virtual cliff. Once a video begins, an additional pause can cause stress levels to increase dramatically," says Qureshi.
In the study, the net promoter score (NPS) of an operator increased significantly when associated with a delay-free experience - by 4.5 points. This finding was also reflected when measuring emotional engagement using a neuroscience-based motivational index, it adds.
However, Qureshi says the operator's NPS dropped on average four points with moderate time-to-content and re-buffering delays. "Interestingly, moderate delays result in a double negative for mobile operators - decreased engagement with their brand and increased engagement with competitors."