Review: LeapPad Ultra
The LeapPad Ultra comes at a time when there is growing concern about children's exposure to content on the Web.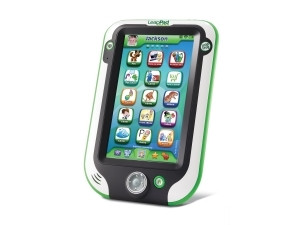 It is not uncommon for parents who own tablets to fight with their little ones who want to use the gadgets. While many parents want to expose their children to this technology, there will always be concerns that the child could break the pricey device or gain access to harmful content.
The LeapPad Ultra may just be the solution.
Recommended for children aged between four and nine, the LeapPad Ultra is tough enough to handle what kids throw at it and is ready to use out of the box, with integrated WiFi and a Web browser parents can trust.
According to LeapFrog, the device comes amid growing concern about what children are exposed to online. This is in addition to an increase in accidental 'in-app' purchasing, which occurs when children unknowingly download content to their parents' mobile devices at a significant cost. With the LeapPad Ultra's parental controls, these concerns are eliminated.
Father vs daughter
I had two weeks to review the gadget, with the help of my tech-savvy six-year-old daughter, who helped me gauge if the device would appeal to its target market.
Neither of us were disappointed. As a parent, the device gives me all the control, especially over what my daughter would be exposed to when surfing the net. From her perspective, she admitted that she would prefer a LeapPad Ultra over an Apple iPad.
One of the biggest selling points of the LeapPad Ultra is the already-mentioned parental control functionality. When setting up the device, parents are requested to choose a PIN, which is required in order to access the Internet. Whenever something is downloaded, this PIN must be entered before a transaction can be completed.
I particularly liked this functionality because it prevents children from downloading anything their parents deem unsuitable. This also eliminates the possibility of getting an unexpected bill for unapproved downloaded content.
Getting started
Before using the device, parents are prompted to set up a user profile, including the child's age and gender. Based on this information, the LeapPad will tailor content, ensuring users interact with content that is appropriate for them.
A tutorial explains how to get the most out of the device, including an overview of all the apps and instructions on how to customise the device. The seven-inch screen boasts a 1 024x600 pixel high-resolution display.
It comes with 2MP front and back cameras, as well as a Photo Fun app, which I found useful for children who are interested in photography. Using this app, kids can manipulate images they have taken with the device by adding shapes, masks and cartoon characters, among other stickers. For example, using this app, one can add his/her face to the body of a baboon, lion, etc.
Children can interact with the device using either their fingers or the stylus. The touch-screen is satisfactorily responsive.
Apps
Besides the Photo Fun app, other pre-installed apps include Pet, Pet Chat, Voice Memo, App Centre, Bookshelf, Music, Calculator, Notepad, and Clock, among others. Parents can easily browse, purchase and download apps from LeapFrog's library of learning games, apps, e-books, videos, music, etc, in the App Center.
One of my daughter's favourites was the Pet Pad Party game, which she became quite accomplished at. By the time of writing this review, she has already reached level 26 of the math skills game.
When she discovered the calculator app, she described it as a magic wand as far as addition and subtraction are concerned. Using the app to do arithmetic was "easy peasy", to put it in her words.
Memory, battery
The LeapPad Ultra has 8G of internal memory, which is not expandable. It also comes with a rechargeable battery, which lasts up to nine hours on a full charge. Performance wise, the LeapPad Ultra houses an 800MHz processor.
According to LeapFrog, the LeapPad Ultra also offers peer-to-peer play across devices, allowing two or more tablets to connect locally. This means children can communicate and play with their friends and siblings in a safe environment.
In a nutshell
The LeapPad Ultra retails for R1 999 and is a great buy for parents who want their children to play and learn at the same time. It is also a safe device, as parents are always in control of what their little ones consume on the Web.