Simple Data Governance in the age of complexity
Can data management and governance win the day?
Have you felt frustrated by e-mails longer than a few sentences, articles that are more than two to three pages, or educational videos that are longer than two minutes?
We have become soundbite-orientated, and we attribute this to the speed of technology and volume of information. Many organisational challenges are based on hyperactive external forces driving ever faster decision cycles. Customers need to make complex, expensive decisions based on so many variables and technology choices, that embedding those into the framework of the organisation is becoming more of a challenge.
Buzzwords such as going digital, on-premises versus cloud, IOT (unstructured data), blockchain, machine learning and artificial and augmented reality, must be evaluated for business necessity and that takes time, money and re-directing stretched resources into assessment projects. It can appear like a whirlwind whipping up around the organisation, while it remains in high gear manufacturing, converting, delivering and selling its products and services.
'The creed of speed' article published on economist.com asks if businesses operate any faster today. A key consideration in the article is the perception of speed. It proposes hyper information absorption and larger data volumes attributed to the perception of the increased speed of business, and not necessarily improvements in manufacturing or supply chain.
Organisations are being confronted with a new wave of technology and applications. There is the need for digital engagements with customers and suppliers while remaining true to their core business value. Ultimately, however, any new business project will still require data to be effective.
"The conversation surrounding data governance should be: what is the enterprise and IS strategy; how do we plan a scalable solution architecture that ensures all projects have a solid data foundation and tie into existing data repositories; a strong data team and methodology; and how do we make data an Exco agenda item? Take the time to look at every business project through a data lens for a moment. Where does the data start and where does it flow," states Brett Schreuder, Managing Director at GlueData.
"Holistic data solutions need to include both a top down and bottom up approach. Top-down focuses on data governance. It is risk mitigation tied into the strategy of the organisation, focusing on key aspects at a multi-data object level to see what is centralised or federated and building solutions to deliver that strategy. Bottom-up focuses on the burning platform or obstacles to delivering business drivers. Data management solutions can't dictate strategy. Data management becomes part of the operational lifecycle. An organisation can exist with data management and limited data governance, but will never get beyond projects, as there is no Executive endorsement. Whereas data governance without data management indicates a disconnect between the executive wishes and mandate, and operational execution of the directives," continues Schreuder.
So, can such a methodology of Simple Data Governance exist and be effective with all the noise pollution emitting from other projects going live in rapid fire? The answer to the question is - absolutely and in effect, this is the only route to success. The strongest recommendation is to implement this as part of any project to ensure it is adopted and embedded in the operational function of the organisation. Should it not be part of any upcoming planned project, then a roadmap of data governance projects needs to be agreed and implemented.
Data value map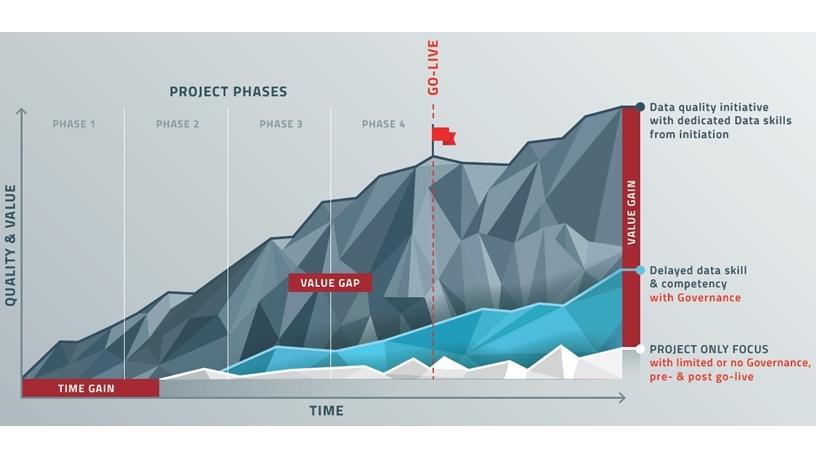 Simple data governance requires distilling a complex requirement and solution, that typically encompasses a scope greater than just data. Leveraging off years of experience and internationally recognised and respected data standards, GlueData has placed a lot of energy in designing an approach for customers to embrace and engage with. It is not an overwhelming and daunting task that requires a year plus of implementation and controls.
Schreuder gives the following advice to be effective in operationalising governance:
* The project scope must be limited.
* Focus on the data objects that need data management and conclude an assessment.
* Ensure that for the data objects where data management solutions and cleansing will be implemented, data governance must be an equal deliverable.
* Ensure any implicit data governance components are documented and implemented or made explicit.
* Work with the executive committee and assess business drivers, future state of data management (maintenance of object records to be centralised or federated).
* Actively drive the need for change management and training. Data is a consequence of people and process.
The Simple Data Governance and Simple Data Management Solutions, which GlueData specialise in, reduce the chaos within an organisation's processes and value chains. This allows executives to address the speed at which data is flying into and out of the organisation. Every effort must be made to focus on the data strategy and data architecture, as this will allow the optimisation of data management and data governance investments.
Contact GlueData to discuss simplifying data, to focus on upstream architecture and downstream information value.