Vodacom takes WiFi to Loftus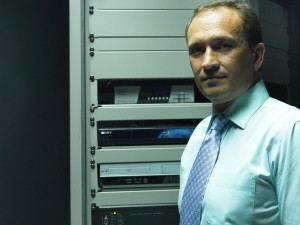 Vodacom has unveiled a full-stadium WiFi solution at Loftus Versfeld, which it claims is an African first.
It notes rugby fans visiting Loftus Versfeld will be able to connect to Vodacom's new high-density WiFi network, with faster data connectivity than ever before. The solution is the first step in making Loftus Versfeld Africa's first smart stadium.
"As the home of the Vodacom Blue Bulls and one of the most visited stadiums in South Africa, Loftus Versfeld was the obvious stadium for us to launch this project.
"Our engineers have been hard at work, installing more than 40km of fibre and more than 400 WiFi access points. We tested the service for the first time at the Bulls-Lions match on 2 May and were incredibly pleased with the result," said Andries Delport, Vodacom's CTO.
Vodacom notes it is in talks with other stadiums and public spaces, like shopping malls, to roll out the solution further.
Seamless switching
The operator, SA's largest, has implemented Extensible Authentication Protocol-SIM technology at the stadium, the first such deployment of its kind, it says.
Vodacom explains this technology enables a seamless switch between radio bearers (4G, 3G, 2G and WiFi), meaning a cellphone or tablet will connect to whichever bearer has the best connection, ensuring the fastest possible data access. EAP-SIM also means that during a WiFi data session it will still be possible to receive voice calls.
Delport explains the data used will be deducted directly from a customer's existing data allocation. "Non-Vodacom customers will also be able to buy WiFi bundles to gain access."
Barend van Graan, CEO of the Blue Bulls Company, explains speeds in most stadiums are not fast enough to stream video when a match is on and the network is congested. "This can make watching content extremely frustrating. In some cases people would rather stay at home to watch the game on TV where they can easily view replays, see different camera angles, or even catch games being played at other stadiums."
The new network now allows fans to watch video content on their smartphones, Van Graan adds.
The network, which was built by Cisco Systems, is made up of hundreds of Cisco WiFi access points. By increasing the number of access points and using WiFi spectrum, the data-carrying capacity within the stadium has been "dramatically" increased.
This ultimately means faster downloads and uploads, and less congestion. The solution is flexible and Vodacom has plans to increase the number of access points to 700 in the future.