BokSel capitalises on linguistic advantage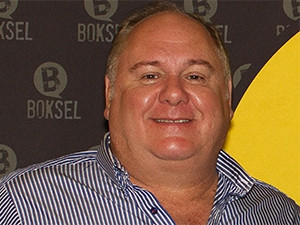 South Africa's first Afrikaans-only mobile virtual network operator (MVNO) has launched. BokSel is aimed at mobile users who prefer communication in Afrikaans. The new mobile network hopes to entice around 100 000 users.
BokSel is the brainchild of Rennert van Rensburg, the man behind Afrikaans radio station Bok Radio.
"There is a gap in the market for customers who wish for a network that speaks their home language - here Afrikaans," Van Rensburg told ITWeb via e-mail.
He says Afrikaans is the third biggest home language in SA and around 70% of South Africans understand Afrikaans.
"This, coupled with the demand we have received from our Bok Radio listeners for a network in their own language, made BokSel an obvious opportunity."
Van Rensburg says the MVNO's target customers are "all Afrikaans-speaking people in South Africa ? as a start" but if someone who does not speak the language wishes to join the network "our customer care can assist them in English too".
Mother tongue
BokSel was developed through a partnership with mobile network enabler, MVN-X, which is providing all the infrastructure and technical support.
"All around the world there is a consumer trend towards serving customers in their mother tongue," according to Steve Bailey, CEO of MVN-X and former Virgin Mobile SA boss.
"With Bok Radio having such a loyal and engaged audience, it presented an opportunity to tap into this trend by providing Afrikaans-speakers with a mobile network that serves them in their home language and that offers some great value-added services in Afrikaans."
BokSel's first customers will be the listeners of Bok Radio, which has a strong following in the Western Cape, but the network is open to any mobile users across SA.
Similarly to other local MVNOs, the network is built on Cell C infrastructure, but Bailey says MVN-X has provided a tailored technical backbone and customer support service in Afrikaans. Durban-based MVNO Me&you mobile also uses MVN-X for its mobile platform.
At the moment, the only way to join the network is through the company's Web site, where customers can tailor their own packages by choosing various bundle and data options. Consumers switching to BokSel can port their numbers free of charge and contracts operate month-to-month - with options to upgrade or downgrade at any time.
"Our packages are competitive to the other networks. However, as an Afrikaans network, we have quite a unique offering - our Web site, all communication and the customer care too is all in Afrikaans," explains Van Rensburg.
Small niche
Africa Analysis MD Dobek Pater says the MVNO market has seen a number of new service providers enter the market over the past two years, but subscriber growth has been slow.
"Some of the MVNOs are more successful than others (eg, FNB Connect growing its base by 100% to around 200 000 over the past year) but in relation to the total mobile base, the MVNOs remain very small," according to Pater.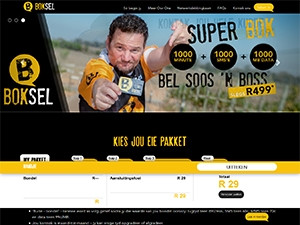 IDC senior research manager for telecoms and media in Africa, George Kalebaila, says generally MVNOs seek to exploit a niche in the market that the bigger players may not necessarily be serving well.
"Whilst the Afrikaans community might be sizeable, the question will be if they can attract enough numbers to their network to be successful. All the big networks offer language support in Afrikaans but there could be some gaps that BokSel may seek to exploit. If properly marketed with brand ambassadors and targeted sponsorship of cultural events, it might strike a chord within the target market."
However, Pater is cynical about how much market share BokSel can grab.
"Whilst an Afrikaans-language MVNO could theoretically address a market of over 10 million, I think customers are more concerned with the quality and value of services provided. All the major MNOs offer services in various major languages spoken in SA, therefore, using language as a distinguishing characteristic (or a differentiating factor) in our market is probably not sufficient to run a successful mobile communications business.
"I don't think it will gain much traction. It may hold an appeal with certain segments within the Afrikaans community, but not sufficient to prosper, in my view," adds Pater.
Kalebaila says it all comes down to whether the MVNO can garner enough subscribers to make the business case work.
"The value proposition should go beyond language, because that could be easily replicated and addressed by the market leaders if they feel threatened by BokSel."
He says BokSel will need to offer superior customer services that are unique to the Afrikaans community to make customers stay with the network.
"In Nigeria, there were pseudo MVNOs targeted at Hausa and Fulani communities but they didn't perform that well. Therefore, it remains to be seen if BokSel can generate enough interest from the Afrikaans community to be successful."
Banking on the brand
Van Rensburg says there are already a few thousand Bok Radio listeners ready to sign up for BokSel.
"They are a very loyal and engaged listenership and they already trust the Bok Radio brand," he adds.
This loyalty will be key, as pointed out by Ovum senior analyst Richard Hurst, who says MVNOs' success or failure depends largely on their brand pull and how much of a relationship they can establish with their customers, or potential customers.
"I think that while on the surface this MVNO appears to be based on language, the other hooks or pulls for new customers will revolve around identity and cultural affinity. It may be fair to say this type of MVNO will be building its business case on other value-added services that are brought to the market."
Van Rensburg says the most obvious service upfront is that everything is in Afrikaans; however, customers can look forward to some interesting and unique value-added services going forward - mostly linked to Bok Radio.
Prices and bundle options
R49 Value Bundle - R0.79/min R0.60/SMS R0.70/MMS R0.99/MB
R99 Value Bundle - R0.79/min R0.60/SMS R0.70/MMS R0.99/MB
R199 Value Bundle - R0.69/min R0.60/SMS R0.70/MMS R0.99/MB
R299 Value Bundle - R0.59/min R0.60/SMS R0.70/MMS R0.99/MB
R349 Bok Onbeperk - R-.--/min R0.60/SMS R0.70/MMS R0.99/MB
R499 Superbok - 1 000 mins 1000 MB 1000 SMS
Monthly data bundle add-ons
| | | | |
| --- | --- | --- | --- |
| Plan | Price | Data provided | Rate per MB |
| 100MB bundle | R50 | 100MB | R0.50 |
| 200MB bundle | R70 | 200MB | R0.35 |
| 300MB bundle | R85 | 300MB | R0.28 |
| 500MB bundle | R129 | 500MB | R0.26 |
| 1GB bundle | R199 | 1GB | R0.19 |
| 2GB bundle | R299 | 2GB | R0.15 |
| 5GB | R399 | 5GB | R0.08 |
| 10GB | R599 | 10GB | R0.06 |