Operators didn't ask Parliament for OTT regulation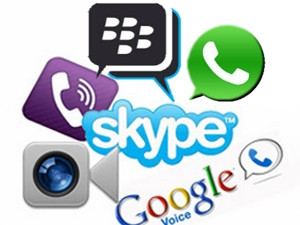 No mobile operators requested the Parliamentary portfolio committee on telecommunications and postal services to look into the regulation of over-the-top (OTT) players like WhatsApp and Facebook.
Responding to questions from ITWeb, committee chairperson Mmamoloko Kubayi confirmed none of the mobile giants, "nor anyone" had officially asked the committee to look into the OTT impact on communication in SA.
"We have an obligation based on the Constitution on behalf of citizens to engage on matters affecting them and have the powers to summon anyone before our committee to respond to matters of national interest. You will note based on the media reports that the matter is of national importance that can't be left to the sector to decide on their own."
Kubayi's statement contradicts a previous 'Media Alert' sent out by the committee - on her behalf - on 14 January stating the committee is "set to look into the complaint of mobile networks regarding OTT services, and the challenge these services pose on revenue of cellphone giants".
"Mobile operators are requesting that Parliament consider passing a policy or regulations of data services on mobile networks such that they generate revenue for carrying the data services on their bandwidth infrastructure," the statement reads.
Kubayi now confirms what Vodacom, MTN and Telkom had already told ITWeb - that none of them had requested the discussions. Cell C has been open about opposing regulation of OTT services.
This does not mean mobile network operators (MNOs) have not complained in the past about losses to their voice and SMS revenues because of messaging services like WhatsApp, WeChat and Viber - albeit informally.
Kubayi, however, clarifies that the 26 January planned discussions are not an official public hearing but rather a meeting to bring stakeholders together.
"The meeting is not meant to be conclusive but to serve as a platform for us as portfolio committee to hear the various views on the subject."
This will come as a relief to Telkom, which told ITWeb it believes "regulation of any aspect of the ICT sector should be informed by sound economics".
"A decision to regulate prior to an in-depth discussion on the impact of the OTTs on the ICT sector and the economy in general may be premature," it commented.
"Telkom supports technological developments and the associated benefits to the economy. Regulation should be directed at levelling the playing field where there is an identified market failure."
Vodacom, however, is supportive of a review of the regulation similar to the view expressed by the European Commission. Chief officer for corporate affairs, Maya Makanjee, says Vodacom believes "rules must be simpler, future-proof and must also ensure a level playing field between traditional telecoms companies and new players where they compete in the same market".
MTN says telecoms and OTT operators can "co-exist in an agreed and mutually beneficial relationship". Meanwhile, Cell C is of a different opinion, with CEO Jose Dos Santos warning the regulation of OTT players in SA could "be to the detriment of the industry and consumers at large".
Footing the bill
Industry veteran Adrian Schofield says the dispute around the regulation of OTT services stems from operators wanting "to protect their traditionally lucrative revenues from call charges and messaging services, which they see being eroded by consumers using their data bundles instead".
Africa Analysis MD Dobek Pater adds the debate often circles back to declining MNO revenues versus investment in infrastructure.
"MNOs, such as Vodacom and MTN, spend billions of rands every year on developing infrastructure, while OTT providers do not invest a cent in local telecoms infrastructure.
"Ideally, the MNOs should be either able to charge the OTTs some form of a fee for the use of their infrastructure (as ISPs do, for instance, when they want to deliver services to end-users over an operator's network) or see some contribution towards the infrastructure by the OTTs. Regulations to that effect have been considered in Europe, for instance, but nothing has come of it to date," says Pater.
However, Schofield believes MNOs have no justification for asking OTTs for payments or infrastructure investments.
"We are way past the need to enforce investment in infrastructure by protecting the incumbents from competition, and we should instead be encouraging innovation that makes access more affordable and available. Cell C recognises the future is based on connected consumers using the network for any purpose, rather than trying to cling to outdated ways of charging for services.
"Trying to protect MTN from OTT services will be as successful as trying to protect Telkom from MTN. When your business model gets overtaken by innovation, it's time to change your business model, not to seek protection from the regulator," adds Schofield.
On behalf of citizens
Despite the Parliamentary committee's claim it is engaging on behalf of citizens, analysts are not convinced regulation of OTTs will be in users' best interests.
"Consumers of OTT services are benefiting from not paying any charges to the app providers. If the operators get their way and the OTT services have to pay licence fees, the costs will have to be passed on to the consumers. This will either result in increasing the cost to the consumer, or the consumer reducing their usage of the OTT services. Either way, it does not help the consumer to enjoy freedom of choice," says Schofield.
Pater says the impact on consumers would depend on what the regulation actually entails, if any comes to pass.
"If the aim of such regulation would be to force the OTTs to pay the MNOs, it may result in higher costs for end-users.
"However, the regulation could possibly also address the issue of taxation - ensuring revenue generated in SA is subject to income tax and VAT (probably more enforcement of existing legislation) - this also ties into a greater global debate and enforcement of regulations as to where global companies should be paying tax," points out Pater.
Regulation is futile
Schofield says he doesn't know how regulation would be possible.
"I believe a few countries have attempted to block certain OTT services, which simply reduces the freedom of choice in that territory. I do not see it feasible to seek licence fees from overseas providers.
"In the Netflix case, we saw how local consumers could access the overseas service through proxy servers - I am sure that such options would be developed if the OTT services were no longer locally available," Schofield adds.
"In my view, trying to regulate the OTT players is a lost cause," according to Pater.
He believes operators should not be fighting OTT players but should be working with them to offer better or differentiated combined services; or offer better services and packages themselves.
"One aspect is quality of service - the OTTs normally offer lower quality of services (although some of this may be on account of the network connectivity), so the MNOs could offer premium services to who would like better quality services and are prepared to pay for it," concludes Pater.