Cementing change
PPC CIO Kgomotso Molefe is introducing tech to a 100-year-old business.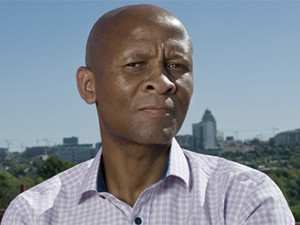 I'm the most reserved person you will ever come across," Kgomotso Molefe tells me. "You will have to dig words out of my mouth."
It's not the most encouraging way to start an interview, but after an hour, the conversation is still going strong. When it comes to talking tech, Molefe has plenty to say.
As the CIO of cement company PPC, he's bringing fresh technologies to this seemingly low-tech product. He's a young-looking 43, a little reserved and unassuming and extremely bright. He was born in a village near Rustenburg and went to Wits University after matric. "I worked a bit harder than the average student," he says. "Initially, I was going to do actuarial science, but that changed along the way and I registered for a B.Sc degree in computer science."
That was an odd and brave choice, given that he had never seen a computer until he went to university. "I was fascinated by computers. I had read very little about them, but at a careers exhibition, they spoke about computers being the new big thing."
When Molefe graduated, he was offered a job at IBM, but turned it down to study for another year for an Honour's degree.
By the time he wrote his last exam, he had accepted a job at Accenture, and spent eight years as a management consultant designing IT solutions for telecoms companies, the public sector and financial services players.
Y2K fiasco
It's hard to imagine now, but those were the pioneering days when businesses weren't very familiar with computers. "It was just catching on and we were automating a lot of things and business reengineering was the buzzword," he remembers. "We were the kids with the new tools coming out of varsity and we knew stuff that the guys in the industry didn't know. You were one of the few who really knew what was going on."
The Y2K fiasco taught those computer kids many lessons, he says. "Things started to be formalised and frameworks put in place to avoid this happening in the future. People were building things as they went along, so there was lots of bad code. It became more about methodologies and thorough testing and planning for all scenarios and building things right, and making sure you didn't just build for tomorrow, you build for way into the future," he says. "Before that, it was just geeks doing their thing."
Molefe's next job was as an enterprise strategy consultant with Microsoft. He worked with customers to understand their problems and propose solutions that didn't have to be based on Microsoft, although he was expected to show what Microsoft could do for them.
You have to introduce the right amount of change at the right time and the right level, otherwise it's way too disruptive to achieve anything...
By 2013, he was ready to broaden his outlook and joined PPC as its first CIO. "I'd lived all my life in a consulting role, so I was always on the other side. I wanted to experience being a customer and managing service providers. I thought I'd learnt a few tricks in the management consultant arena to be able to add value to the enterprise."
Competition in the cement industry was rife at the time, he says, requiring him to redesign and add new technologies to make PPC more competitive.
The job also involves plenty of travel as PPC expands into Africa, with a new plant opening in the DRC and another being commissioned in Ethiopia. "We'll be putting in place the infrastructure and finding solutions to the difficulties that one has doing business in the rest of Africa," he says.
The right skills
The company's strategy abroad is 'fit for purpose' rather than 'thou shalt do this'. "At times, there are no certified service providers in these countries, so you do an assessment to see what's available and what's supported. You have to make sure you can source things in-country and have the right skills available."
He diplomatically describes the IT that PPC had when he arrived as 'good enough for a 100-year-old company'. Some areas needed enhancing and optimising and the executive team is totally supportive of his ideas, he says. "There wasn't a CIO before and they realised the value that IT could give to the organisation."
While the board is in favour of introducing changes, Molefe must still persuade some employees to embrace IT. "They've been making cement for 100 years without IT playing a critical role in the organisation, so you really have to work hard to persuade them and show them the value IT can add and the business opportunities it can unlock," he says.
"We only introduce change where it's really required. In a 100-year-old organisation, you have to introduce the right amount of change at the right time and the right level, otherwise it's way too disruptive to achieve anything because everyone will focus on the change and not on what they are trying to deliver."
His current big focus is to integrate IT and OT - operational technology - to link the engineering side with the IT side. All the new manufacturing equipment has an operating system embedded in it, and the IT department wants to help the engineers manage that infrastructure.
Another aim is to monetise big data, by analysing data from all PPC's operations and devising plans that add value. That includes analysing information to flag potential faults in the equipment and analysing customer data to gain a better understanding of their needs.
His greatest achievement has been to create a strategy that everyone buys into, from the guys on the floor to the executives, he says. He's also proud to have put governance structures in place so IT isn't regarded as the department that enjoys spending money. "We always do the business costs to show the value of what we are trying to deliver and they can check if we deliver on the promises we made."
This article was first published in the May 2016 edition of ITWeb Brainstorm magazine. To read more, go to the Brainstorm website.