More Limpopo schools get ICT infrastructure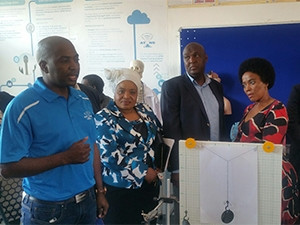 Air Traffic and Navigation Services (ATNS) has sponsored ICT infrastructure for the Limpopo Provincial Education Department in Driekoppies, Limpopo.
Deputy transport minister Sindisiwe Chikunga officially handed over the equipment to the department yesterday.
ATNS provides air traffic, navigation, training and associated services within SA and a large part of the Southern Indian and Atlantic Ocean, comprising approximately 10% of the world's airspace.
The donation is one of several Limpopo schools have received this year. In January, the government announced its one child, one tablet initiative had reached Limpopo province.
Last month, Vodacom and Samsung partnered to provide e-learning services at Seloutjo Secondary School, Ga-matlala Limpopo.
This year, the Limpopo Department of Education's budget increased by over 7% to R27.2 billion, the largest amount allocated to any department in Limpopo. This makes up almost half of the total provincial budget, according to the province's MEC for education, Ishmael Kgetjepe, who recently delivered his budget speech.
ATNS provided an ICT computer library and built a strong room for the safe storage of notebook PCs equipped with the latest educational software at Selowe Primary School. At the nearby Ramohlakana High School, the company sponsored a new science centre. The centre houses an ICT library and a science laboratory.
In a speech during the handing-over ceremony, Chikunga said government is committed to strengthening SA's education system, knowledge dissemination, information access, and quality and effective learning with science, technology and innovation.
"We are geared to ensuring our technology is used to close disparities and enable quality learning," she noted.
ATNS CEO Thabani Mthiyane says the company has aligned its corporate social investment strategy with the human resources development strategy and national development plan to guide the development of skills and knowledge within communities, in the process addressing the twin societal challenges affecting SA: poverty and unemployment.
"We have done with this with the sole intent of enhancing the efficiency and productivity of both teaching and learning," he says.
Mthiyane points to the ever-increasing use of ICTs in workplaces, the sport environment, institutions of learning and in the social sphere. "In the aviation industry, we have communication, navigation and surveillance equipment that enable air traffic controllers to talk to pilots in real-time, to allow for the safe movement of air traffic across the globe."
ATNS has provided similar ICT Infrastructure in remote rural schools in KwaZulu-Natal, Northern Cape and Mpumalanga in the past year.