Infographic: Is ERP worth the cost?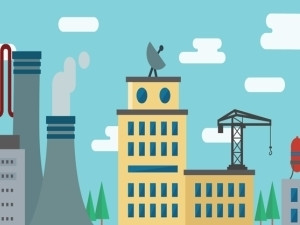 Whether you are manufacturing in Johannesburg or developing software in Tel Aviv, every business wants to be as productive as possible. But, what if enhanced productivity comes with a high price tag? How do you know whether the extra productivity is worth the cost? This is the problem faced by companies all over the world. Business owners know there are advantages to ERP software.
But, it's difficult to determine whether the cost of installing a new ERP system, or upgrading to a cloud solution, is worth the cost of implementation. Even more frustrating is the lack of absolute methodology for how to calculate the ROI on ERP. There are several methods that can be applied, but there is no universally accepted method to determine when ERP becomes good value for your business. Fortunately, there is lots of research showing the experiences that businesses have had with their ERP systems.
Provided the initial ERP implementation went according to plan, the case for ERP is very strong. The infographic below shows a majority of companies are generally positive about their experiences with ERP. And, perhaps most importantly, companies are seeing a meaningful amount of the expected improvements to their business in as little as nine months. These improvements suggest the pay-back time for ERP is relatively short and can therefore justify the initial expense involved in ERP implementation.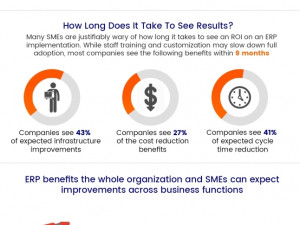 Infographic provided courtesy of Notable - https://notable.com.sg/erp-software-singapore