Govt to prioritise maths and science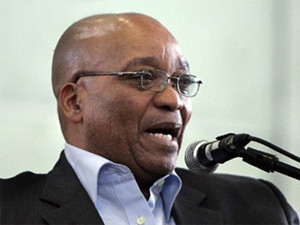 In 2017, government will prioritise maths and science more than ever before. So said president Jacob Zuma as he delivered his tenth State of the Nation Address (SONA) in the National Assembly this evening.
As predicted, Zuma's speech focused on socio-economic issues and building a united, democratic, non-sexist, non-racial and prosperous country.
While broader ICT issues were overlooked, the president noted the importance of science and maths as an enabler of economic growth.
According to Zuma, government will continue to focus on the key areas in the nine-point plan to boost the economy and create jobs. Included in the nine-point plan are science and technology as well as broadband rollout, he said.
The president pointed out that government is encouraged by recent international test results that show the performance of South African learners in maths and science is improving. "Government's investment in science and technology education is yielding positive results."
He also lauded projects like the Square Kilometre Array telescope in the Northern Cape for its contribution to socio-economic development in SA.
Zuma stated: "The department of science and technology is implementing a technology localisation strategy. This has ensured that the R2 billion MeerKAT telescope is constructed with 75% local content. This has led to job creation in the Northern Cape and diversification of the economy through the creation of artisan and maintenance jobs, and the promotion of science as a career of choice."
On the topic of #DataMustFall, Zuma said lowering of data costs is uppermost in government's policies and plans.
Last year, South Africans took to social media to express their frustration over the high cost of communication in the country.
Led by media and radio personality Thabo Molefe, popularly known as Tbo Touch, the social media campaign called on operators to lower the cost of mobile data.
This led to Parliament's portfolio committee on telecommunications and postal services hosting public hearings with stakeholders, mobile operators and civil society organisations on the cost to communicate in SA.
Similar to last year, Zuma's latest address was marred by disruptions as members of the Economic Freedom Fighters (EFF) chanted "tsotsi" [crook] as he made his way into the Nation Assembly.
At one point, the EEF's Mbuyiseni Ndlozi requested president Zuma to leave the National Assembly and proceeded to call him a "constitutional delinquent".
President Zuma finally managed to deliver his speech more than an hour later, after the violent removal of EFF members from the National Assembly, while Democratic Alliance and other opposition party members staged a walk out.
Despite promising no censorship like the signal jamming that took place in 2015, some of the opposition party members' microphones were switched off.