Review: Garmin n"uvi 3597LMT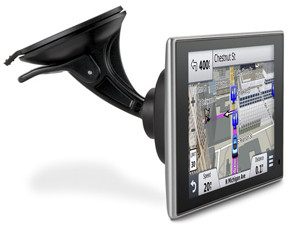 Not only are companies in the in-car navigation technology market competing against each other, but Smartphones are becoming digital "Swiss Army knives" that do just about everything, including a decent job at dozens of tasks once reserved for specialised hardware like cameras and GPS systems.
At the back of this highly proliferated and increasingly competitive industry, the Garmin nuvi 3597LMT does a good job of refining Garmin's brand of navigation with premium design and one of the best interfaces in the business.
Look and feel
The Garmin n"uvi 3597LMT features a crisp, 5" high-resolution multi-touch display with 800 x 480 pixels. This brings a real boost to onscreen image quality. It also has an elegant styling and a magnetic mount that will latch onto the unit and align it effortlessly with the mount every time. It combines voice controlled navigation with the best feature set available from Garmin. The new and improved Garmin traffic service keeps you informed and the device responds to your voice requests. This enables you to keep both hands on the steering wheel while avoiding traffic.
Performance and functionality
To truly appreciate its capabilities, I found myself lost in the unfamiliar (to me, anyway) town of Kliprivier, east of Johannesburg. By simply saying "Voice Command" the device responds with onscreen and audible prompts that guide you through spoken address input, points-of-interest search and dialling contacts for hands-free calling. The multi-route review not only indicated different options to the destination I was looking for, it also estimated arrival times and distances. It comes pre-loaded with city navigator covering South Africa (I did not have the opportunity to find out if this extends to the rest of southern Africa).
Other highlights include the up-ahead feature which displays information of nearby services such as restaurants and petrol stations on the map; and Bluetooth wireless technology, which enables hands-free calling if paired with a compatible phone.
Conclusion
In terms of route guidance and general use, the Garmin n"uvi 3597LMT is very similar to a lot of other devices on the market. However, this model has a much more elegant feel to it, improved technology and a very stylish design. The nuvi 3597LMT is priced at R4 049 and the free lifetime maps and traffic info, and excellent voice-activated navigation function are a real bonus. The device proves that innovations in the in-car navigation market will continue coming through.