Mashaba takes on Joburg's chaotic billing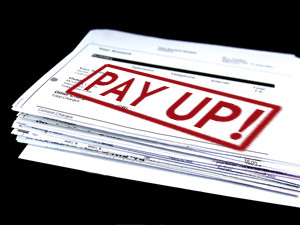 Top priority on City of Johannesburg (COJ) executive mayor Herman Mashaba's to-do-list is to address the flaws within the city's billing system.
Yesterday, the Democratic Alliance candidate and newly-elected mayor of the COJ delivered his first speech at the city's council meeting, making particular note of the billing crisis that has plagued the city's residents for years.
Johannesburg's billing system has been a headache for residents for many years now, as citizens battle to resolve grossly-inflated bills and are threatened with disconnection if they do not pay up.
According to Mashaba, the city can't have a situation where residents are left homeless because their homes have been seized for not paying their bills.
He said: "Between April and June this year, monies owed by residents to the city grew by R2.8 billion. This can only be when our billing system needs serious attention.
"We need to review current mechanisms and introduce new mechanisms for processing and resolving billing complaints. Our residents go to hell and back to resolve issues," Mashaba continued.
Hot mess
Johannesburg started implementing project Phakama in November 2009, and completed the move in June 2010. The project was established as part of the city's vision to move from legacy systems onto an integrated platform to provide better functionality in metered services, billing, collections, customer service and payment processes.
The COJ's aim was to develop sustainable revenue base through improved billing revenue management.
Under Phakama, the city migrated its billing system onto a SAP platform. The project had several aims: to supply a single-service utility for managing the revenue value chain; be responsible for overall revenue and customer services; operate a single database; and give the city a single IT system sufficiently robust to run the integrated and complex operations of the city.
However, thousands of Johannesburg account-holders complained about grossly over-inflated bills, inaccurate meter readings, illegal disconnections and a lack of service from the city's call centre.
In 2013, National Treasury revealed ratepayers owed the city R17.2 billion.
In 2015, the city wrote off R15.5 billion of customer debt for the 2014 year, which showed an increase compared to the R14.4 billion in 2013.
Winning solutions
In an attempt to sort out Johannesburg's billing system crisis, Mashaba is organising a billing indaba. An indaba is an important conference or meeting organised by government officials to discuss strategy planning.
According to the executive mayor, three central issues will be addressed at the indaba.
He explained: "Firstly, we need to produce an accurate indigent list to protect our poorest residents and ensure they have access to free services. Currently, we have people unable to pay for services. Some of whom are having their homes seized because they cannot afford the services their neighbours receive for free.
"Secondly, we need to introduce measures to improve revenue collection in our city. There are far too many people who can afford to pay but are currently failing to do so as a result of flaws in the billing system, outdated account details, or simply ignoring their bills.
"Increasing revenue collection will allow us to use this money to improve infrastructure and service delivery, especially to the poor who need it most," said Mashaba.
We have to be a more responsive and caring government than our predecessors, he concluded.