Shipping container becomes computer lab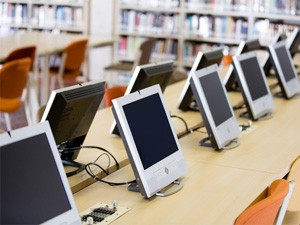 Learners at Zamani Primary School in White River, Mpumalanga will now have full access to a library-cum-Internet caf'e.
Indian-headquartered information technology, consulting and business process services firm, Wipro, has transformed an old shipping container to set up a computer learning incubator and library at the primary school in Mpumalanga.
To make this possible, Wipro teamed up with Breadline Africa, a Cape Town-based non-profit organisation, which takes abandoned shipping containers and recycles them for essential community purposes. The containers are usually turned into school libraries, kitchens, toilets and classrooms in early childhood development centres.
Wipro says the library-cum-Internet caf'e will not only be available for use by Zamani Primary School learners but also surrounding schools and local community members.
The new digital literacy facility is equipped with books, computers, Internet connectivity and printers, according to Wipro.
Gavin Holme, country manager for Africa at Wipro, explains: "Education is the foundation on which a person can build a better life. It equips a person with the ability to improve their life as well as those of their families. Furthermore, it creates a platform to further contribute to the country's economy. This is why we are so passionate about providing sustainable assistance and support to those who need it the most."
According to Wipro, its initiative is designed to stimulate an interest in technology among the scarce ICT skills pool in SA and is aligned with the South African government's vision to increase access to essential resources for an enriched education.
In 2008, government introduced the one child, one tablet initiative to transform the country's education system by providing access to the Internet and smart devices.
Government has committed to ensure access to technology devices for all South African teachers and school children by 2018.
Wipro says its initiative is also aligned with a national reading campaign called 'Drop All and Read Campaign', which urges the nation to focus on the importance of reading as an academic life-changer for learners across SA.
Commenting on the project, David Sibiya, principal at Zamani Primary School, says: "This is an opportunity to grow our community in ways we could not have imagined before. With the help of the new library and access to computers with Internet connectivity, we will know more and our youth can dream bigger. It will make a huge difference to all of us."
The Zamani Primary School project marks the fifth programme in three years that Wipro has completed so far.