iLearn, MICT SETA offer blended learning learnership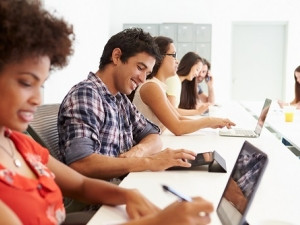 Learning solutions company iLearn has partnered with the Media Information and Communication Technologies, Sector Education and Training Authority (MICT SETA) to offer an IT learnership programme.
According to iLearn, the learnership aims to help local students annually to gain an internationally recognised IT certification. MICT SETA has accredited iLearn to deliver this qualification using a combination of learning methodologies to provide oversight and final verification of learners' competency.
The first group of 10 is already undergoing the learnership, with plans to provide the opportunity to hundreds more.
Richard Rayne, CEO of iLearn, explains: "The 12-month learnership will use a blended learning approach, which takes advantage of new technology while recognising the benefits of on-site face-to-face classroom methods. Upon successful completion, participants will be offered a National Qualifications Framework level four certificate."
"We are very excited to be partnering with iLearn in the blended learning space. A MICT SETA-accredited learnership demonstrates the company's commitment to closing the scarce skills gap in the IT sector by working on and improving demand-driven learning programmes that serve as effective bridges in the working world," says Charlton Philiso, senior manager: education, training and quality assurance at MICT SETA.
iLearn will facilitate the delivery of the qualification and support learners through a combination of on-site training, online content, video-based facilitation and practical virtual online labs. Training is arranged on dates and times that students require at a location of their choice, explains Rayne.
Candidates will need to attend nine days of on-site training over the course, in addition to completing their assignments and obtaining the international qualification. Learners are paired with a learning coordinator who will support them through the entire experience.
Among the entry criteria are English and mathematical literacy at NQF level four (Grade 11); computer competency, as well as competency in skills gained at a further educational institution.
"The learner will be required to submit a portfolio of evidence of relevant experience, in a prescribed format. The assessor and learner will decide jointly on the most appropriate assessment procedures, subject to the assessment rules of the relevant education training quality assurer," concludes Rayne.