Ingram Micro explores modern corporate learner
Over the past two years, Ingram Micro has conducted extensive research on addressing the needs of the next-generation corporate learner. As a result, Ingram Micro has invested in platforms that offer flexibility, game-based learning, and video-on-demand to ensure critical skills necessary to support dynamic IT solutions are consumed in the most effective and efficient way.
"The Fit LIVE class was pretty interesting to say the least! My coworkers and I got a good kick out of it. It was definitely more interesting than a normal WebEx. It made it feel like a real live class." - Klein G.
Those of us involved in the training and development business for the past decade (or longer) can attest to the rapid evolution of the workforces we have served, and continue to serve, over the past decade. Let's examine the two most significant reasons for this.
Generational impact
Part of it, of course, is generational. Recent research on millennials strongly indicates how training/learning and development must evolve to leverage the astute characteristics of this growing segment of our workforce.
"I have to say that (FIT LIVE) was the best training I have been to online." - Kyle S.
Below is the recap of a recent survey conducted by http://www.beyond.com that illustrates the difference in perception that seasoned HR professionals have about millennials compared to how millennial job seekers view themselves. A total of 6 361 individuals took part in the survey.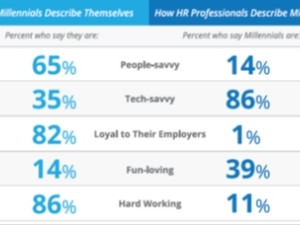 It's difficult to say which of the two is most accurate; however, it's highly likely that each generation would probably have similar contrasting results. Studies from the last few years clearly show that corporate training, as it's currently delivered, is only marginally effective for the younger generations in our workforce today. What has been less clear, until now, is how L&D must change in order to meet the younger generations' needs.
Business landscape impact
The chart below details a few of the key points relating to employees and how they function in today's business landscape as well as their behaviours, habits and preferences.
There is no doubt that we are all challenged to prepare for the future, while also addressing the needs of the present.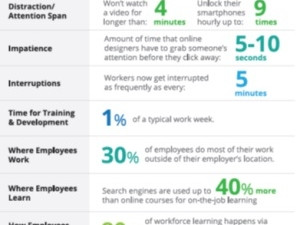 That said, Ingram Micro made a bold decision to enter the training market with a strong digital footprint, Flexible Integrated Training, game-based learning and on-demand training so that training could be delivered combining structured and unstructured content that learners are becoming accustomed to.
Ingram Micro's goal was to increase engagement, which would naturally lead to greater content retention.
Research also indicates the modern corporate learner consumes information in 'chunks' as they seek targeted information that they can implement quickly. The explosive use of YouTube and Lynda.com as a 'how to' guide for just about anything is a great example of how the modern corporate learner wants and needs to access and apply learning quickly.
"I thought it was terrific!!! Don was great and informative and the avatar was very fun. We jumped, clapped and waved etc. The team seemed to really enjoy a new platform to be educated. It was the most fun webinar we have done in a while! - Star N.
Another movement that has gained traction over the past year is digital credentialing and offering instant validation that the learner can proliferate on social media and other channels that increase his/her professional stock. Universities are now looking at open badges to help students gain recognition for co-curricular learning that is not reflected in their transcripts. In the corporate space, IBM is a leader in issuing open badges and makes them available to learners through its network of global training providers.
When you combine the generational and business landscape changes, it is clear there is a tectonic shift in how learning is consumed and delivered. Training for the modern corporate learner must be:
* Engaging
* Agile
* Available, accessible and continuous
* Fun
* Consumable in smaller chunks
There has never been a better and more exciting time to create and deliver training to employees and customers. With new modalities, platforms and rewards, the modern corporate learner is demanding a new culture of continuous learning. Ingram Micro is proud to be on the leading edge of developing programs for its employees and customers that address the needs of the modern corporate learner.
For more information, visit www.ingrammicrotraining.co.za.