3D modellers create VR view of Taiwan earthquake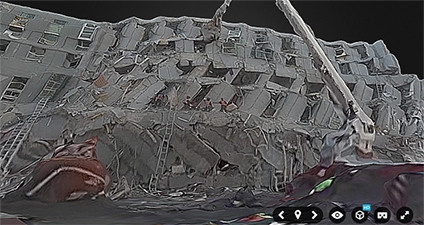 A group of 3D modellers from National Cheng Kung University have publicly posted an interactive 3D model of Taiwan's earthquake disaster zone, which can be viewed in virtual reality using a smartphone and Google Cardboard.
At least 34 people were killed (at the time of writing), and over 500 injured, in the 6.4-magnitude earthquake that hit the city of Tainan, Taiwan on Saturday.
The 3D model has been constructed using 3D modelling software as well as individual viewpoints from numerous photos and videos of the site, and focuses on the Wei-guan Golden Dragon Building.
The 17-storey apartment building is the only high-rise building to have collapsed following the earthquake, and is now under investigation for serious construction flaws.
Video footage captured via drone by Ruptly highlights the wreckage of the building when shown in context of its comparatively unscathed surroundings.
While the 3D reconstruction is unlikely to directly help victims of the disaster, it can help furnish faraway users with an idea of the scale of the incident's devastation.
Virtual reality is increasingly being used in attempts to arouse empathy from viewers in the wake of traumatic events.
In mid-2015, Los Angeles-based RYOT showed a virtual reality film of the Nepal earthquake and its aftermath in an attempt to help raise funds for survivors.
In November 2015, the New York Times released a mobile virtual reality app as a "new way to tell stories," debuting the feature with "The Displaced", a virtual reality film reconstructing the journeys of three different refugee children.