Govt to widen ICT access drives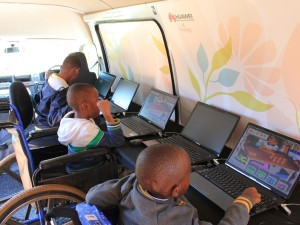 As the Department of Women, Children and People with Disabilities (DWCPD) and the MTN Foundation prepare to hand over an ICT centre to the Temogo Special School in the North West province tomorrow, analysts say more could be done to improve access for people living with disabilities.
More than 20 computers, equipped with software to assist learners with impaired cognitive functioning, will be donated to Temogo in a bid to improve e-learning. While the Department of Communications introduced strategies to boost ICT access for the youth and the disabled in 2012, many of SA's schools for children with special needs have yet to be addressed.
According to a 2012 DWCPD report to the United Nations on protecting the rights of persons with disabilities, SA has more than four million people with physiological or cognitive impairments.
The Universal Service and Access Agency of SA (USAASA), which improves access to ICTs across under-serviced areas of the country, launched a pilot programme this year catering for the needs of people with disabilities.
Khulekani Ntshangase, spokesperson for USAASA, says five schools are part of a project aiming to standardise ICT access initiatives to cater for people with impairments. "We have a formal agreement with the Department of Education to start improving technology challenges for about 485 schools for people with disabilities across the country.
"This includes hardware and software for both the visually and hearing impaired," he adds.
ICT veteran Adrian Schofield notes that a big challenge is the "catch-all" term 'disabilities'. "The range of physical conditions and intellectual capacities that is included is wide and varied, and there is no simple solution to meet all these needs." He adds that technological adaptations for a limited market are expensive, which presents further challenges.
ICT inclusion
Speaking at a consultative conference for government's ICT policy green paper recently, communications minister Yunus Carrim said inadequate access to ICT for vulnerable groups such as people with disabilities was on the agenda, saying people are set to be "left behind" if measures are not put in place.
Several initiatives have already been put in place, including the National Accessibility Programme (NAP), which was launched by the Council for Scientific and Industrial Research in 2009, aiming to improve ICT access for people marginalised through their disabilities.
NAP runs two specialised ICT centres in Gauteng, and its online portal caters for people with hearing, visual, speech, physical, mental and intellectual disabilities. It also developed an open source augmentative and alternative communication framework dubbed Grand Nap App, which caters for people who cannot speak.
Huawei SA partnered with Khulisani Enterprise last year to provide a mobile ICT training centre for psychologically and physically impaired children in the south of Johannesburg.