Rethink mobile RFID: Integrate IDBLUE stylus reader with Bluetooth device
Typical RFID (radio frequency identification) handheld readers are bulky, heavy and cumbersome. Imagine a device that fits into your hand and can be used like a stylus with any handheld computer, smartphone or tablet, and you have the IDBLUE RFID reader.
"This lightweight reader fits comfortably into your hand and is the perfect add-on to our rugged mobile computers," said Stef du Plessis of Osiris Technical Systems. "Existing IT infrastructure, be it tablet PCs, smartphones or PCs, can be expanded to add RFID capabilities."
Because RFID technology works well in extreme and rugged environments, it has replaced barcoding as the preferred data capturing tool for many applications. Over the past few years, RFID technology has matured greatly and has become increasingly cost-effective, resulting in many markets viewing it as a viable solution for their data collection.
The IDBLUE RFID reader was designed with ruggedness in mind. It is IP56-certified, has Intrinsically Safe certification pending, and can operate in a wide range of environments - from the engine assembly floor, to the harsh conditions on North Atlantic oil rig platforms.
"These features make the IDBLUE reader ideal to use with the ultra-rugged handheld Archer or Mesa computers," said Du Plessis.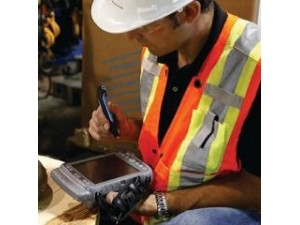 "Operation is of course not limited to harsh environments. The IDBLUE connects to almost any Bluetooth device, like a smartphone, iPad or PC, and allows utilisation of existing infrastructure. You can also roll out new smartphone platforms while retaining your RFID investment."
The IDBLUE reader is intended for short-range applications, enabling users to narrow down on a specific asset's data, making this reader/handheld combination particularly appealing for asset management and tracking. HF as well as UHF models are available. The IDBLUE RFID reader can operate connected to a PC or smartphone for direct application feedback. Alternatively, onboard data storage allows you to record information and thousands of tag IDs without being linked to a computing device. The information is then downloaded via integrated Bluetooth 2.1 wireless communication. The battery lasts up to eight hours with continuous use and is recharged within one to one-and-a-half hours via a built-in USB 2.0 standard port.
For more info regarding RFID readers and rugged handheld computers, contact Osiris Technical Systems on (0861) 674 747, or visit www.osiris.co.za.