Review: HTC One A9: Is HTC back in business?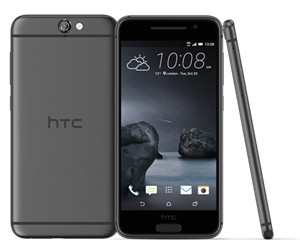 It has been a tough year for HTC, mainly because of the disappointing One M9 flagship phone. The device looked a lot like its predecessor, but housed a lower quality screen and shorter battery life. With a fresh new CEO at the helm, HTC recently launched their One A9 smartphone. Is it good enough to get the company back on track?
One thing's for sure, the HTC One A9 looks and feels a lot like the Apple iPhone 6. It features the same curved 2.5D screen-glass on the front and metal unibody housing at the back. Unoriginal, but it's still a great, elegant design resulting in a good feel in the hand and durable housing.
When compared to its predecessor (HTC One M9), the buttons on the side of the One A9 have improved significantly. They're easy to distinguish by touch because of the ribbed texture. At the top of the phone, I noticed a plastic component, most likely for the antennas. This piece of plastic doesn't seamlessly integrate with the rest of the phone, making it prone to dust accumulation over time. On the left side of the phone, the A9 features a slot for a nano SIM and micro SD-card.
Previous HTC devices in the M-series featured BoomSound technology speakers, guaranteeing a certain quality and volume level, but not on the A9. Instead, it offers better quality when using a headphone only. It also lacks stereo sound output, but the mono sound it does produce is more than sufficient.
Other connectors are the micro USB-port and 3.5mm jack for headsets. The camera on the back is slightly protruding, making the phone just a bit unstable when put on its back - a clear concession on HTC's part to fit the camera in the relatively thin housing.
Fingerprint reader: fast and accurate
Just below the screen, the One A9 features a FPC1140 fingerprint reader produced by Sweden-based Fingerprint Cards. Other major brands like Huawei, LG and Sony also use fingerprint technology that was designed and manufactured by the same company.
In practice, the multi-angle fingerprint reader is very fast and accurate and facilitates unlocking the phone with just a single touch. This is great for business users whose corporate security policy requires them to use biometric authentication. Because it is front-mounted, you can also unlock the A9 while it's flat on a desk or table.
Hardware and storage capacity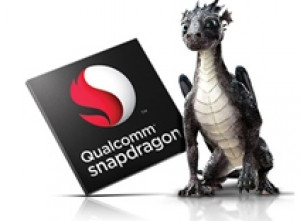 The HTC One A9, which comes pre-installed with Android 6.0 Marshmallow, runs on the relatively unknown Qualcomm Snapdragon 617 chip. This octa-core system-on-a-chip (SoC) houses four separate 1.5GHz Cortex A53-cores and four 1.2GHz A53 cores. For graphics, the device uses the Adreno 615 GPU which is known to be relatively underpowered when confronted with heavy 3D-tasks.
In addition, the A9 houses 2GB RAM and a scanty 16GB of (expandable) storage space. With Android 6.0, having expandable storage is a definite plus because it enables merging SD storage with the internal, effectively creating one big pool of storage capacity. Since the A9 is the first Android 6.0 device I got to review, I naturally wanted to try this new feature. When inserting the SD-memory for the first time, Android 6.0 simply gives you the option to merge it with internal storage or treat is like traditional external SD-storage. How easy is that? Providing extra storage space does, however, add to the already high price tag. Apart from NFC, Bluetooth and GPS, it also supports 802.11ac, dual band wireless networks so you can connect at the highest speeds with your corporate wireless network.
Performance: fails to impress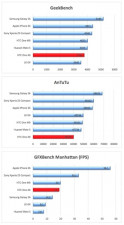 I ran my usual set of benchmarks to find out how the A9 stacks up to other devices. Both Geekbench and AnTuTu clearly show the One A9 is no match for flagship phones from competing brands. It's even slower than the older One M9. The GFXBench test made it clear the A9 is mediocre at best when it comes to 3D-graphics.
However, when used for typical business activities like communicating, browsing, calling and handling documents the A9 packs enough horsepower for a smooth experience. The uncovered relative lack of processing power does mean the A9 will run into future performance problems sooner than significantly faster devices like the Samsung S6, Apple iPhone 6S and Sony Xperia Z5 Compact.
Screen: great contrast and colours
While its predecessor used LCD technology for its screen, the A9 features a 5-inch Full-HD (1920 x 1080) Amoled-screen, resulting in 440 pixels per inch density. After taking some measurements, I concluded that the maximum screen brightness of 390 cd/m2 isn't top of the line, but still good enough to read content in direct sunlight. As a result of the implemented Amoled-technology, display contrast is excellent. Reproduction of accurate colours is also well within acceptable parameters. In the end, the screen on the A9 is pretty good and able to show razor sharp text and images in great colours.
Battery life: The worst
As a result of A9's thin design, HTC had to compromise on battery capacity. The device houses a 2150mAh battery, which is one of the lowest I've seen in a high-end phone for a long time, with the exception of the Apple iPhone. In this day and age, most smartphones run on 2500mAh - 3000mAh batteries.
To determine what that relatively low capacity meant for actual battery life, I ran two benchmarks. The battery draining browser test showed extremely poor (4 hours, 50 minutes) results. If you plan to use the A9 frequently and intensively throughout the working day, expect it to run out of juice an hour or two after lunch. The video test showed the device is at least capable of outlasting its predecessor and the LG G4.

There is a silver lining to the low battery capacity though: this is charging time. The A9 can be fully charged in just 90 minutes. Since it is one of the first devices to support the latest QuickCharge 3.0 technology, actual charging time can be even shorter when using a separately sold QC 3.0 adapter.
Camera: disappointing
While HTC One M9 was equipped with an exotic Toshiba-made, 20MP sensor that still couldn't impress, the A9 houses a more widely used Sony 13MP IMX214 on the back. This 1/3-inch sensor is accompanied by a f/2.0 aperture lens, which isn't ground-breaking, but should in theory prove more than adequate for decent images. There's also optimal image stabilisation (OIS) to help compensate for shaky hands.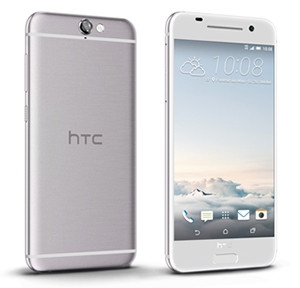 Unfortunately, actual image quality is mediocre at best. When compared to the competition, like the excellent Samsung S6 camera, quality is less than what you'd expect from a high-priced smartphone. This applies to both low-light and bright light situations. Even when compared to smartphones half its price and without OIS, image quality was disappointing.
Unlike some other high-end smartphones, the A9 can't shoot video in 4K resolution, only in 1080p. It also lacks the option to capture video in HDR, which many other phones in the same high-price range do feature.
The built-in camera app is quite simplistic, but still manages to offer quite a lot of functionality. It can do slow motion, hyperlapse and HDR modes as well as save images in RAW-format.
The front-facing camera on the A9 is identical to the one on the HTC One M9. It's based on HTC's UltraPixel imaging technology and uses a 4MP OmniVision OV4688 sensor. This front camera delivers more than enough quality for a decent selfie or Skype conference call. In low-light situations, however, quality quickly diminishes.
Final verdict
The new HTC One A9 smartphone is a mid-range device that comes at a high-end price. Strong points are its elegant metal design, good fingerprint reader, nice Amoled screen, expandable storage and the latest version of Android. Serious shortcomings are relatively poor performance, short battery life, 16GB storage capacity and a disappointing rear camera.
The A9 not only looks a lot like the iPhone 6 (S), it also has the same high price tag. However, unlike the iPhone, the One A9 is far too expensive for what you get.