Female-friendly dating app seeks gentlemen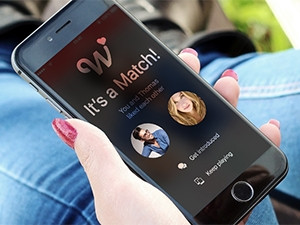 A new dating app, developed by two men, claims to be aimed at what women users really want: manners, respect and safety.
"Wango is the first and only dating app designed from a woman's perspective with a unique gentleman's touch. This finally gives ladies the opportunity to browse for the man of their dreams, while men are obligated to adhere to a Gentleman's Code of Conduct," according to the app's CEO and co-founder, Julian Smida.
"Our top priority is to make women feel safe and free on the Wango platform. That is why we are the first dating app where men must agree to a 'Gentleman's Pledge' upon signing up for the app."
Smida says if a man steps out of line and "misbehaves", he will be banned from the platform.
The app is free for download on both iOS and Android, and uses proprietary technology to match women with "real gentlemen".
Smida, who developed the app with fellow co-founder Steffel Fenix, says most dating apps "are designed by men with men in mind" but his app used the results from research conducted among 35 000 female dating app users to create a platform that caters for what women really want.
"Our research showed that single women are tired of signing up for dating apps only to get hit on by creepy strangers bombarding them with disrespectful messages. This causes women to withdraw from these dating apps," adds Smida, who is a computer science and management graduate from King's College London.
The idea of 'female friendly' dating apps is not new, with many on the market, like Bumble (where women must initiate conversations), Grouper (where you and two friends meet a potential suitor and their two friends), Coffee Meets Bagel (potential matches sent to you once a day), How About We (people connect people via unique date ideas), and Hinge (for meeting friends of friends).
However, Wango claims to have a few unique features, such as takingaway the embarrassment of having to suggest a date or meeting place.
Once communication indicates both parties are hitting it off, Wango will suggest a date through the pop-up: "Wango for Coffee?" If both accept, Wango will pick a spot based on both parties' locations and suggest a date and time for the first date, but dates and times can be adjusted.
"One of Wango's strongest features is that it takes the worry and anxiety out of small talk by providing unique icebreakers to matches. This makes it easy and natural to start a friendly conversation," he adds.
The app also allows for anonymous browsing and hides profiles from friends and relatives.
According to Smida, market research indicates most apps are heavily skewed towards male users, with the male/female ratio sitting at almost 7:3. His app aims to even out the ratio of men and women that use the app to reflect real-world percentages.
"Research conducted is a clear indication there is a need for a gentleman's dating app. Women want to feel safe and respected, and men want a platform where they can prove that gentlemen is a specie that is still alive and well-behaved," adds Smida.