A calculated risk
Cisco SA's Cathy Smith believes in striding out of your comfort zone, in style.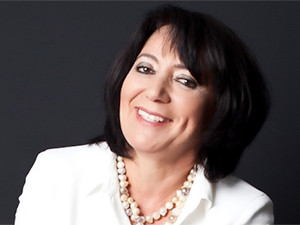 By the time you reach your 50s, life can present a wonderful opportunity to try new things and take more risks, Cathy Smith has found.
Your kids have grown up and you start thinking about whether you've done enough to leave a legacy to be proud of, she says. That's why Smith gave up the comfort of a 25-year career with IBM to become the general manager of Cisco SA in April, choosing to set new goals and ambitions rather than coast towards retirement.
Smith is 53, short, smartly dressed and lightly spoken, with a husky rasp. When I ask what happened to Cisco's policy of championing more black managers, she points out that she's coloured, and laughs when I say she looks like a wealthy white woman with a ski-resort suntan.
We debate how some people grow more timid as they age, realising how easily life can be snuffed out. Smith says she has experienced many losses that show you things can change in an instant, but there's nothing you can do to prevent that. "So while I'm alive and I have my health and my faith and my family, I have to live in the moment." Despite the challenges, she always counts the good things that happen in a day and makes that her source of strength, she says.
Leaving IBM for Cisco has been reenergising and given her a different perspective by forcing her to step out of her comfort zone. "You start to realise that the art of the possible is very different from what you thought it was. I'm at the age where you start to ask: what's my legacy going to be and can I take risks? My kids have grown up, so the whole concept that you have to be responsible has disappeared, and I want to be stretched. I knew IBM so well that it would have been very hard for me to fail and to see what I'm really made of. I want to do something that gets my adrenaline pumping and see what the big wide world is about."
New adventures
She debated the pros and cons of the career move with close friends, and found she was the only one to doubt her abilities. "It's the weirdest thing that women think they're not going to succeed. But I have such an amazing support system among my friends that that was quickly squashed."
This new adventurousness is also livening up her social life. She and her friends started visiting museums and castles, and have now graduated to thrills like ziplining. "I want to remember the experiences, not just the places. I want to make my life count and really live it to the maximum," she says.
Smith was the youngest of eight children, and fell into IT accidentally. She took an administrative job with an insurance company that sold apps and needed more people in its IT department. After an aptitude test, she became an application developer. "I was very good at understanding the business requirements and translating that into how a program needed to be coded," she says. "My strength was listening to the client and understanding what they actually wanted, and that's carried me through my entire career."
About ten years ago, I started to realise there are differences, and women aren't as well represented as they should be.

Cathy Smith, Cisco SA
What kept her at IBM for so long was variety. She joined as a developer, then became a project manager running some of IBM SA's biggest infrastructure projects. She worked in the UK for three years, then returned to South Africa as the director of Human Resources. Finally, she switched to sales. "I stayed so long because there was always something new and exciting that helped me to grow and develop and make a contribution."
At Cisco, part of her aim is to improve the leadership potential. She is a fellow of the African Leadership Initiative (ALI), an organisation that develops leaders with the vision of creating 'a good society'. Cisco is encouraging Smith to share the skills and experience gained through ALI with other Cisco leaders in Africa.
Critical thinking
The ALI programme is designed to increase awareness and critical thinking so its fellows can find better ways to make a difference in economic and political society. Smith now wants to set up a youth programme based on the AIL philosophy at the church she attends in Belgravia in Johannesburg. That would help youngsters think about 'the art of the possible' and create a plan for what they want in their lives and careers.
She also wants to work with other female IT executives and devise a plan to attract more girls into the industry. "When I was starting my career, I didn't want to be seen as a woman, I wanted to be seen as a person. I'm intelligent and I work hard and I didn't believe in woman specific programmes," she says. "About ten years ago, I started to realise there are differences, and women are not as well represented as they should be."
To actively address that, she led an internship at IBM with a strong focus on women and rolled out a women's development programme across the Middle East and Africa with job-shadowing and coaching.
"It's an exciting time for women to come into the industry because you want your company to reflect the society you're doing business with. I have to do something to create that awareness and that's what I'm keen to do for the industry," she says.
Her job with Cisco is almost 24/7, especially while she's new and trying to make a positive impact. Her kids have been complaining because even when she's with them physically, her mind is with the company. "Now I'm trying to make sure I'm present when I'm with my family and friends, but develop the ability to stay still connected and able to respond to my business requirements," she says.
If she manages to crack that eternal conundrum, she'll share the secret with everyone, she jokes.
This article was first published in Brainstorm magazine. Click here to read the complete article at the Brainstorm website.