A new mobile life with Samsung DeX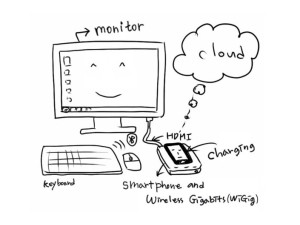 I always get a kick out of brainstorming (sometimes far-out ideas, I admit) with my colleagues, constantly questioning what it will take to make our smartphones groundbreaking, yet more valuable and easier for everyone to use. Back in August 2014 one of those brainstorming sessions begged the question: "Can a smartphone really replace a desktop?"
After spirited discussion, one of the engineers in the room handed me a piece of paper, on which he drew the following.
The idea he suggested was one where we placed a smartphone on a docking station connected to a monitor. In doing so, we could run all Android apps on the monitor as well as Windows apps using a Virtual Desktop Infrastructure (VDI)* while conveniently interacting with a keyboard and mouse.
The idea was great, but unfortunately, we couldn't fully realise it back in 2014 due to many obstacles that couldn't be negotiated easily, such as the limited processing power on the device. However, we kept building on it, refining it and working on prototypes year after year while looking for an opportunity to bring it to our users. The Galaxy S8 is the vehicle that enabled Samsung Enterprise Mobility to introduce its three-year endeavour, realising a modest dream, literally born from a piece of paper and some spirited discussion.
We live in a constantly changing mobile world where all the content and information that entertain and inspire us begins and ends with our phones. We surf the web, we watch movies, we play games - all using a device small enough to fit in our pockets. Now, what if you could connect your smartphone to a monitor, keyboard, and mouse and use it like a desktop? Of course, you might have to turn on your desktop for more complex tasks or gaming, but Samsung DeX adds tremendous value by enhancing the mobile experience for the mobile workforce.
Please click here to read more.