Insufficient assistive tech for 'special needs' pupils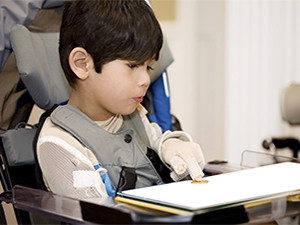 The inclusion of technology in the South African educational system is still in its nascent stage.
That's according to market analyst firm Frost & Sullivan which points out that there is insufficient use of technology in South African schools, particularly in 'special needs' institutions, where 'assistive technology' is highly valued.
In effect, the firm says, the introduction of technology-driven initiatives can improve the skills of individuals enrolled in 'special needs' education facilities.
It notes the importance of technology, therefore, has to be acknowledged in order to allow the South African educational system to align with international standards and market trends.
E-education drive
Pieter Labuschagne, MD of Edit Microsystems, a South African-based supplier of educational and corporate technology solutions, says there have been great strides towards incorporating technology to improve learning outcomes; however, there are still multiple challenges to overcome in SA.
"One of the major stumbling blocks that South African schools face is Internet connectivity although there is an increasing drive towards improving connectivity in all schools. Connectivity enables schools to access resources, training and support.
"We see a drive towards e-education throughout the African continent. We recognise there is a trend towards incorporating technology in the classroom to improve learning outcomes, particularly in areas such as literacy, science and maths, Labuschagne states. "There is also a trend towards enabling inclusive education through technology."
Alfie Hamid, regional manager of Cisco Corporate Affairs, sub-Saharan Africa, says as we mark International Literacy Day on 8 September 2015, we've come to realise that we cannot speak about literacy without also speaking about technology.
"When discussing literacy, we used to only talk about reading, writing, listening and speaking skills. But in order to survive in today's digitised world, pupils also need information, technology and media skills."
Literacy challenges
According to Hamid, literacy is a challenge in SA. A recent Unisa study found that, by the time many South African pupils reach Grade 4, they are functionally illiterate because they do little or no reading in Grades 1 to 3, he points out.
By the time they reach Grade 5, 13% of pupils are considered illiterate and are unable to score more than four out of 20 on a comprehension exercise. And when they reach university, only one-third of pupils could be regarded as ready to cope with the typical reading, writing and reasoning demands they'll face in tertiary study programmes, Hamid says.
"Literacy and technology can no longer be separated; they work hand in hand and together have brought about a revolution in learning. Ensuring that teachers and pupils know how to use educational technology, and that they can troubleshoot problems when something minor goes wrong, will help to ensure the success of school literacy projects."
Frost & Sullivan is of the view that technology, especially software that has the ability to enhance collaborative learning and collaboration between businesses and industries, is not being used to its fullest potential to reap the best results in SA.
Shifting focus
Low connectivity also affects the ability of e-education providers to access schools for training and support, as the telecommunications infrastructure in many rural schools is still underdeveloped, it adds.
"Achieving efficient and accessible customer service delivery is a major challenge. There is an urgent need to shift focus from traditional methods of customer service, which are counterproductive, towards a more modern approach that utilises technology to provide on-demand service, thereby enhancing customer satisfaction," it says.
To sustain prominent positions in the South African e-education industry, Frost & Sullivan feels that market participants need to offer all-inclusive technology solutions that not only focus on merely providing the technology, but also use technology as an efficient medium to provide a holistic and affordable technology solution.
Companies also need to acknowledge that a significant number of educational institutions cannot afford expensive technology and thus offer products accordingly. This is particularly challenging for 'special needs' institutions. Alternative ways of thinking is imperative in such a situation, whereby companies may develop ways to financially help educational institutions to gain access to the latest technology, Frost & Sullivan concludes.