Is MDM BI?
A solid business intelligence strategy cannot exist without master data management, as a report is only as good as the data from which it is drawn, says Marilynn Leonard, divisional head of data at Xpertek.
I have not been selling MDM solutions for very long, but what I have found out is that there is a common misconception that MDM is BI, says Marilynn Leonard, Divisional Head of Data at Xpertek.
In other words, for those who hate TLAs (two/three-letter acronyms), there is a belief that master data management is the same as business intelligence. I would like to dispel this rumour by explaining MDM in layman's terms.
There is certainly a reliance on each other; however, a solid BI strategy cannot exist without MDM. Let's face it, a report is only as good as the data from which it is drawn.
For example, a client of Profisee, (the owner of the Master Data Maestro solution which is distributed locally by Xpertek) was under the impression it had over 10 million customers. Once the MDM rules had been run on this customer data, the client came to the realisation that there were only just over 425 000 individual customers in the company. Can you imagine the difference this makes when analysing reports, decision-making, budgeting, etc. It paints a very different picture indeed. This was just in the customer data. Similar findings occurred in the product domain.
MDM ensures the data you present in your BI layer is clean, complete, consistent and de-duplicated. These data issues arise when you are combining several data sources, eg, CRM, ERP, billing, stock, helpdesk, etc. Duplicates also arise as a result of fast-growing companies which, while on the acquisition path, acquire many new ERP and CRM systems along the way.
As an example in customer records:
Your customer record could exist in all these systems, but could be slightly different, eg:
If all this data is pulled into a data warehouse, they will be seen as different records and be counted as different customers. When creating BI views or reports, the data will be incorrect because of underlying problems in the source systems.
The same would apply to product lines, branches, employees, suppliers, etc.
What MDM does is as follows:

* Complete an incomplete data record either automatically (eg, add postal codes where missing, using third party data like Bing or Loqate) or by assigning it to a responsible person (eg, request via MDM workflow that a person confirms the correct e-mail address and then updates the record accordingly).
* Match the data. MDM then uses matching rules to identify possible common data elements, and based on your threshold, it will then auto-match or suggest a match of data.
* De-duplicate data records so as to ensure a single version of customer or product, etc.
* The 'Golden Record' is then derived and this can (if you wish) be published back to the source systems to ensure your source data gets 'fixed'. This process is called harmonisation.
Going through the steps above would result in a Golden Record as shown below. ERP, CRM, stock and loyalty data has been used to create a new Golden Record, which is a composite of the source systems based on rules.
It has been determined too that the company details contained in the billing system is a different company altogether, and we will therefore create a separate Golden Record for this company.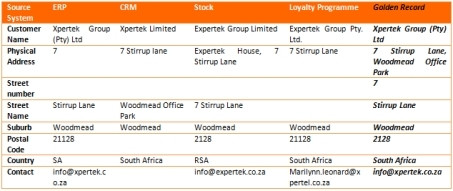 When on-boarding new customers, products, etc, you can also check them against the existing Golden Records to ensure consistency and prevent further duplication.
Then there are further value-adds that an MDM solution brings to the table, including hierarchy management, standard industry models, as well as CRM adapters and SDKs, but I will leave it there for now.
So, as you can see, MDM forms the foundation for quality BI reporting. Without complete, consistent, de-duplicated data, BI reports are meaningless. Poor intelligence results in poor decision-making.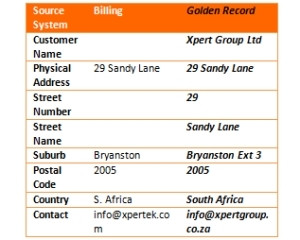 Xpertek offers a Microsoft SQL-based, enterprise-grade, MDM solution called Master Data Maestro. It is an extension of SQL MDS. If you are considering MDM, give Xpertek a call.
To start a conversation, please call +2711 (0)11 519 3000 or e-mail info@xpertek.co.za.
To view the Xpertek Web site, please visit www.xpertekdata.co.za.